Saturday, we made a trip to Phoenix to see the Rockies and the Diamondbacks play.
In the opening ceremony they were giving awards and honors to several policeman and guess who was there? JOHN MCCAIN! He's from Arizona remember? The zoom on my itty bitty camera doesn't do much so here he is on the big screen.
The stadium and the field were really nice. It was well into the 100's as far as degrees go so we sure were glad they had their retractable roof up!
Any baseball fans remember Dontrelle Willis from back in the day? Well he pitches for the Diamondbacks now and we got to see him start. What about Jason Giambi? He played first base for the Rockies that night instead of Todd Helton.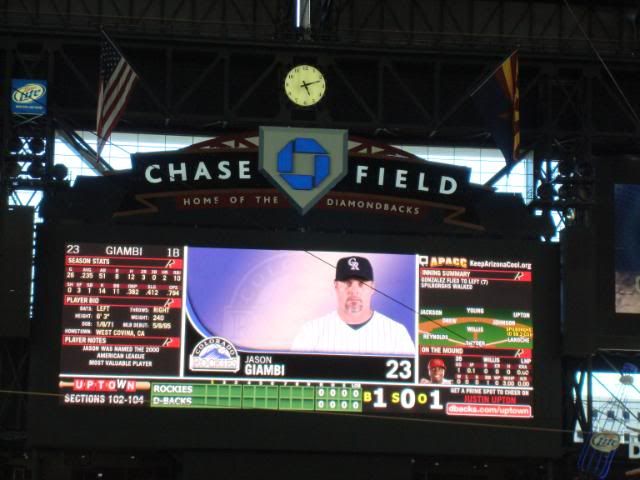 Any Ole Miss baseball fans out there? Remember Seth Smith? He's playing for the Rockies.
It was so much fun seeing players we watched when we were kids and also some that Aaron has played against in college. Games like this are a "fun thing to do on a Saturday night" but they are also a huge motivator for Aaron (and me too, actually). I know my role as his wife is to be his biggest cheerleader and encourager and I am trying to do my best even when times are discouraging. I know that "His ways are higher than our ways" and that God has a perfect plan for our lives but it sure would be fun to watch Aaron out there one day (and God knows that's how I feel)! It just reminds me to keep trusting Him in everything because I know we will only be perfectly content in His will, whether that includes a future of baseball or not!
So you know how I said we were in the 100's out here in the desert? Well the temp yesterday was 112 DEGREES!! So you can only imagine what we decided to do about it...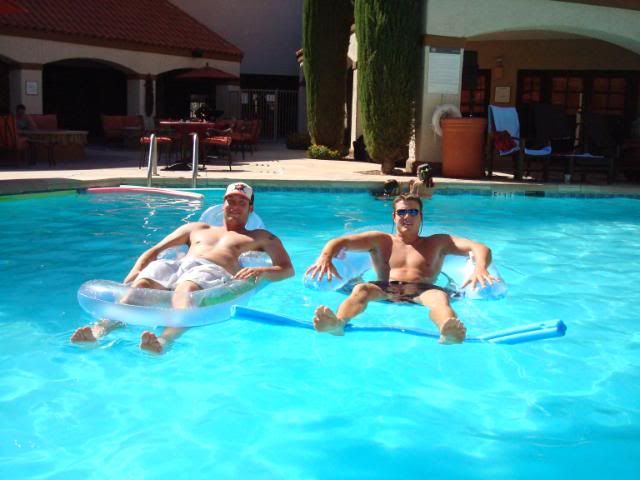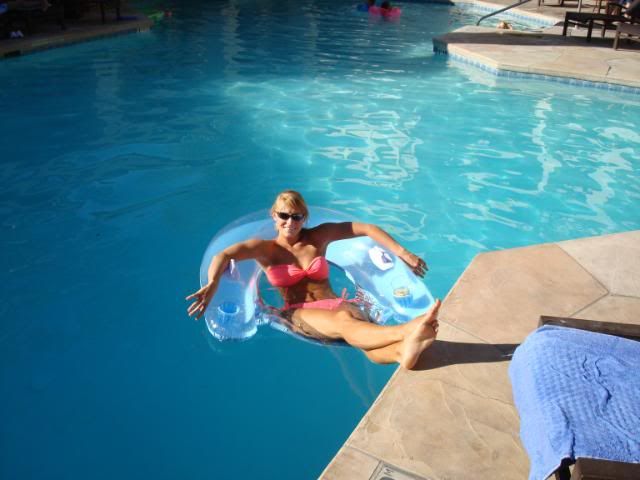 I did get some packing done too because we will be on the road for Washington tomorrow... but we will be making a little 2 night stop on the way that I'm REALLY excited about! (It's a city full of lights I will tell you that!) We would appreciate your prayers for safe travel and I will blog about our little road trip as soon as I can! I will leave you with a picture I took the other night of one of the main things I will miss about Tucson...
Sunsets over the mountains... this was taken from our little patio.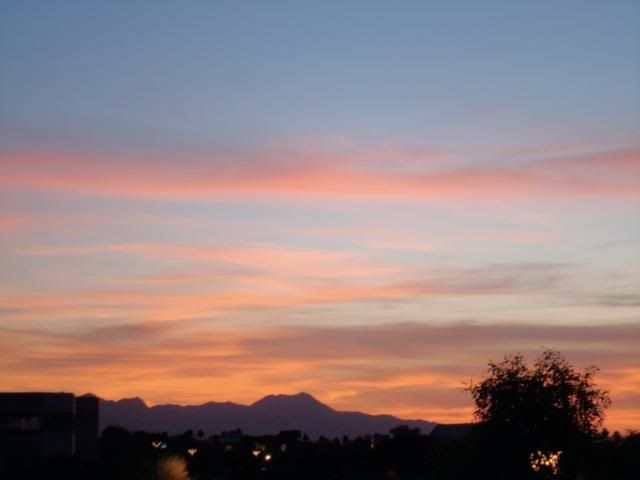 I hope you're having a great start to your week!