If you weren't reading the blog this winter you won't know the story behind my nickname, "Jillia", so you can click
HERE
for a background check :)
Oh y'all don't know how good I feel to be cooking again! The two months we lived in Tucson were wonderful in all kinds of ways, but it wasn't fun being DEPRIVED of one of my most fun "hobbies"- I guess you could call it. We lived
HERE
and obviously, there wasn't a kitchen so now that we have settled into our new apartment in Washington, I have been cooking up a storm! I decided not to bring my Julia Child's cookbook for the summer because I need to cook more simple and most importantly, cheaper meals. Recently, I went home for a week, and I opened up my French cookbook and went to town! I want to share with y'all a wonderful chicken recipe that is so simple to make, rich to the taste, and elegant enough for a dinner party!
"Poulet Saute aux herbs de Provence"
"Chicken sauteed with herbs and garlic, egg yolk and butter sauce"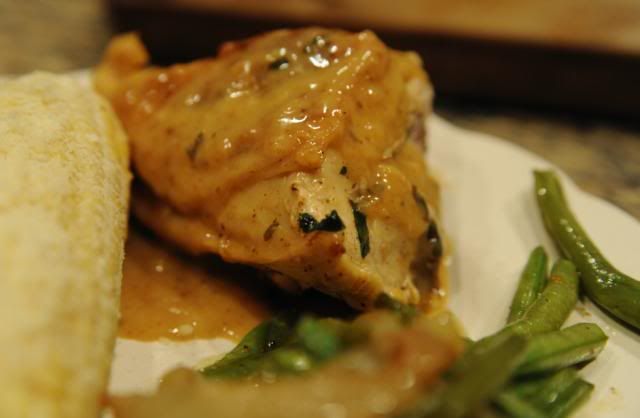 I followed the recipe for the most part but of course I had to make a few little "Jillia" adjustments.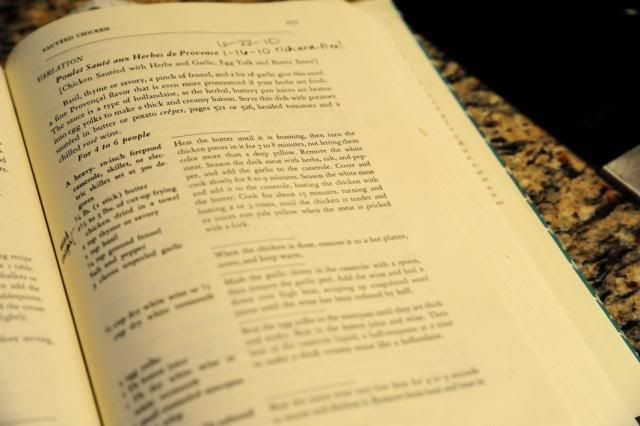 You will need:
cut-up chicken
garlic
basil
butter
egg yolks
lemon
white wine
salt and pepper
I'm not going to give you many specific measurements because it all depends on how many and what kinds of pieces of chicken you have, how healthy you are trying to cook, etc. This recipe is very flexible and forgiving with the exception of the sauce.
-First, place the chicken pieces on paper towels and pat them dry. Season with salt and pepper on both sides.
-Meanwhile, melt butter on medium heat. When it foams, add the chicken pieces.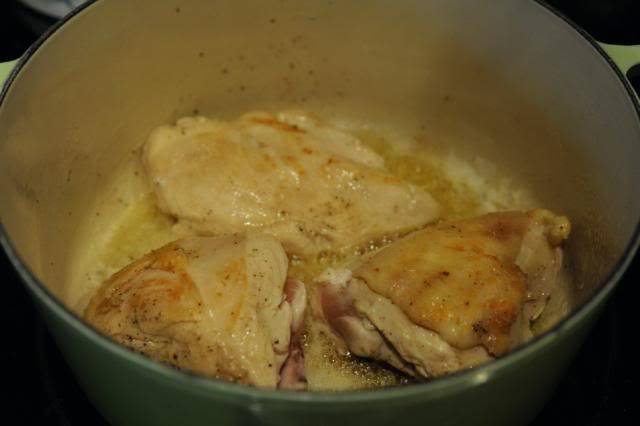 -Saute the chicken until pale yellow, do not let it brown. Keep turning the chicken every few minutes for about 15 minutes.
-Then, throw in 2-3 garlic cloves unpeeled. (Just trust me.) If you LOVE garlic use more!
-Also, add a few tablespoons of chopped or "julienned" basil. Thyme is also a good addition but I didn't have any so I didn't use it.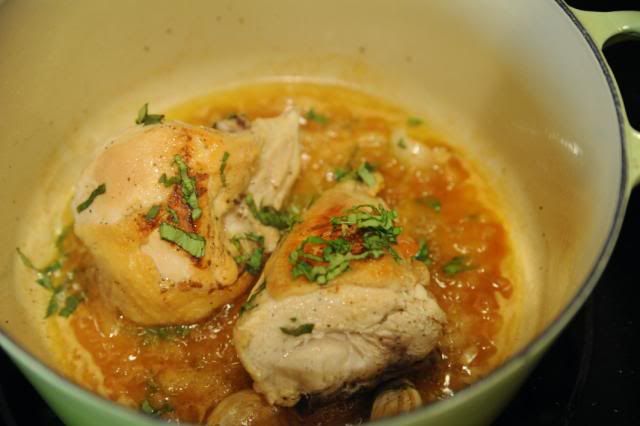 -Turn the heat down a little bit, and cover your dish. Cook the chicken for another 15-20 minutes or until your it is just done... Really try not to overcook the chicken.
-When the chicken has been thoroughly cooked, let it rest on a plate covered with aluminum foil.
-Now we will use the browned butter, garlic, basil, lemon, egg yolks, and white wine to make the delicious hollandaise-typed sauce.
-Now that the garlic has softened, press the cloves with your spoon and the garlic will squeeze out. Discard the peel (or whatever you call the white papery part). Break up the garlic cloves with your spoon.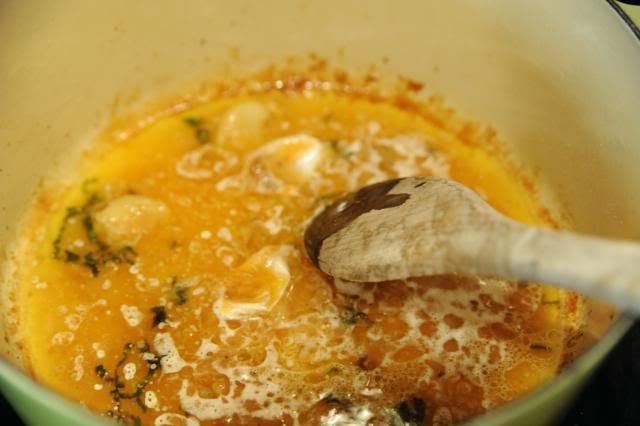 -Now there are going to be little brown bits that are full of flavor on the bottom of your pan from cooking the chicken. Along with adding great flavor, the white wine will help deglaze the pan.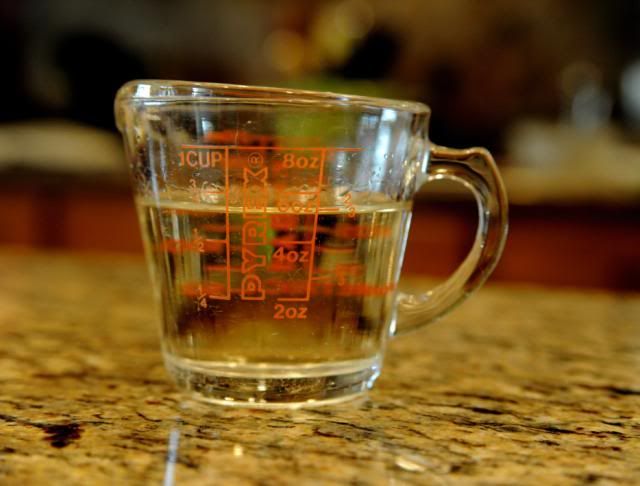 -Pour in the wine and bring the mixture up to a boil and simmer until the sauce has reduced by half.
-Meanwhile, in another saucepan, beat 2 egg yolks (which act as a thickener for the sauce) for about a minute until they get thick and sticky. Add about a tablespoon of lemon juice and beat again.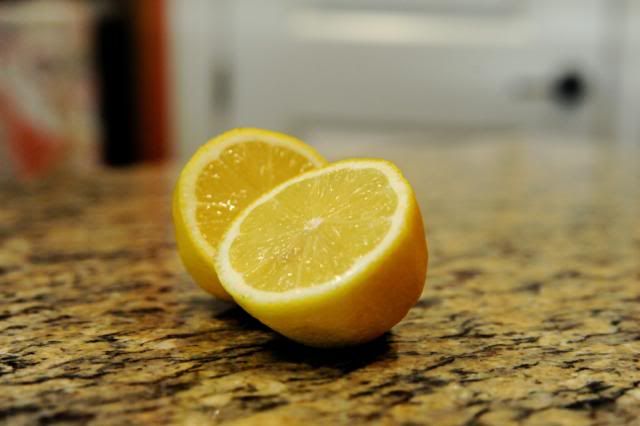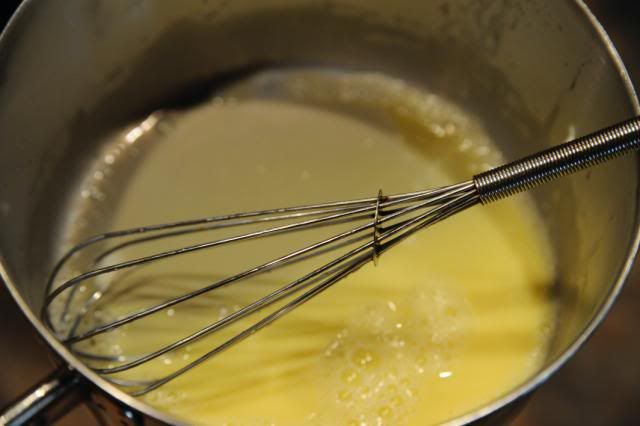 -While whisking, slowly add in the butter-wine mixture to "temper" the egg yolks. Egg yolks are moody, they will not agree with you or the sauce if you don't do this step.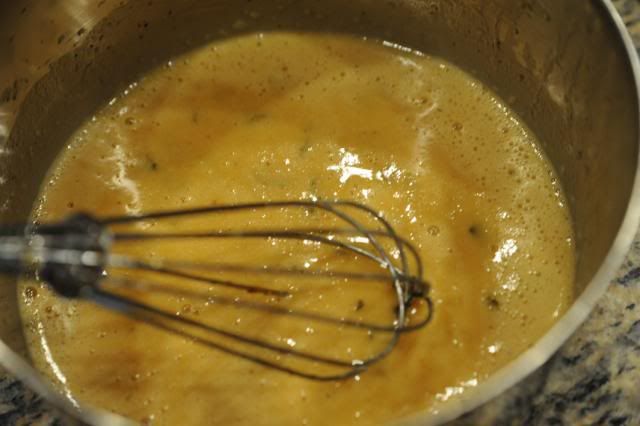 -Keep whisking until the sauce becomes thick enough to coat the spoon.
-When the sauce is done, put the chicken and the sauce back in the pan or on a pretty serving dish and top with some more basil.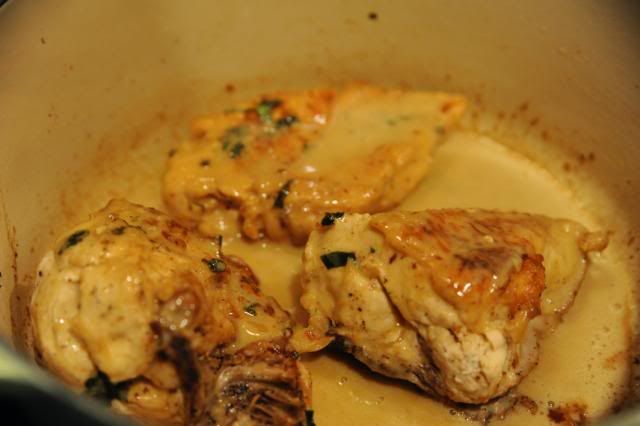 And there you have it: a simple, pretty, and fabulous tasting French chicken dish!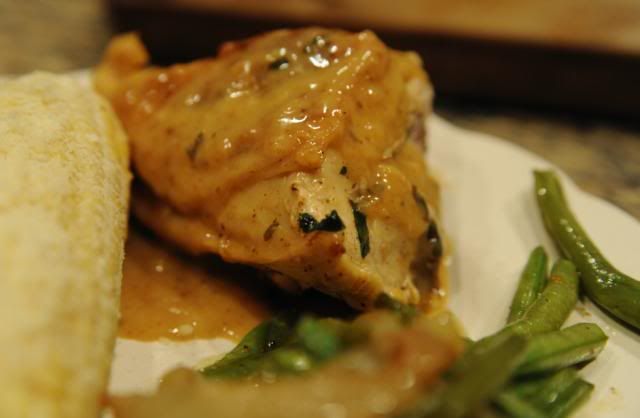 Enjoy!