So this post is about the highlight of my trip. While Aaron was at the huntin camp fishing with his dad, I took advantage of a couple of free days and made my way down to Canton to see my Grandmomma and Grandaddy. We cooked a french feast, baked, fed the cows at the farm, stayed up talking until after midnight, scoured cookbooks and magazines, and they literally had to KICK ME OUT :) when it was time to go because I didn't want to leave! Here is a recap in photos of a very short but fun filled two days with my grandparents.
I have to add this picture first. It never fails, you will always find dainty little flowers from her yard and garden all over her house.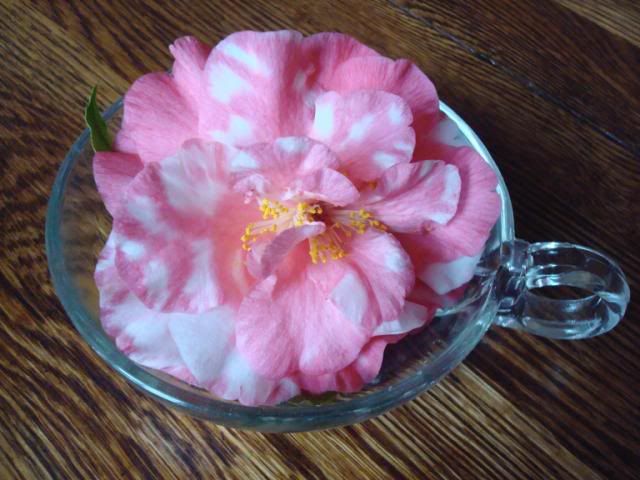 As soon as I got there we started cooking and I couldn't have been happier. When they come up for ballgames, Grandmomma makes big batches of her granola and lots of other goodies for all of her grandaughters at State and well, I'm not at State anymore so I don't get to enjoy them as much as I use to. So I was thrilled to help her make a big batch!
Here is how we made it:
4 cups of old fashioned rolled oats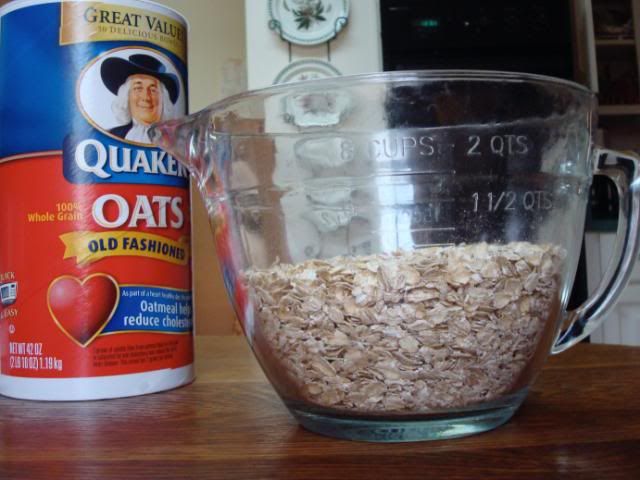 2 cups of sweetened shredded coconut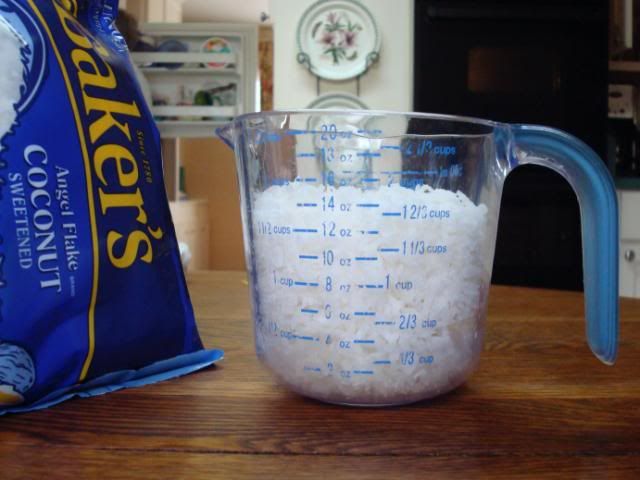 3/4 cup vegetable oil (Grandmomma you made it in this one! :)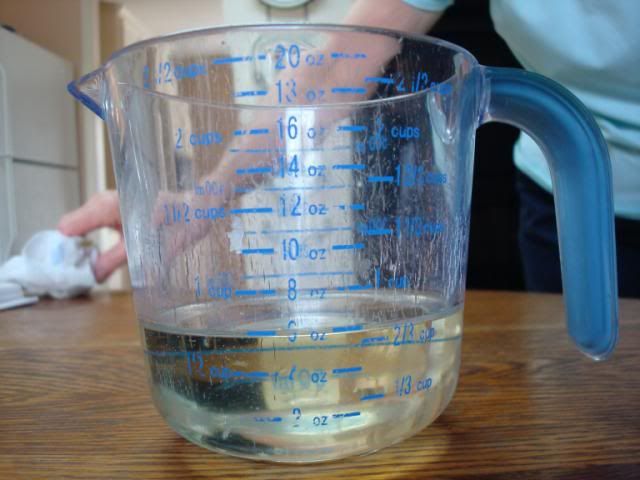 2 cups of sliced almonds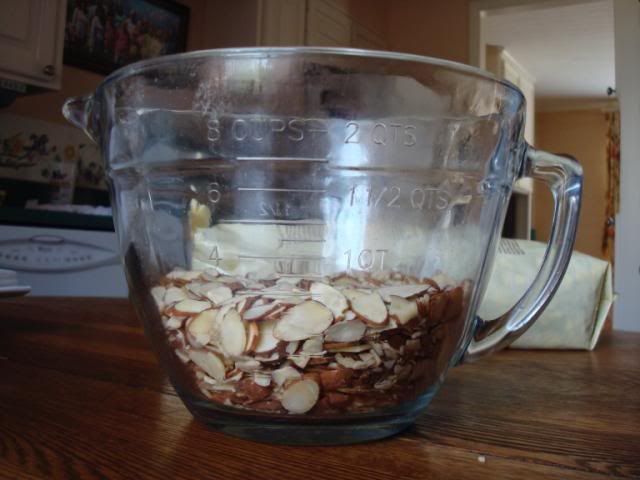 1/2 cup of good honey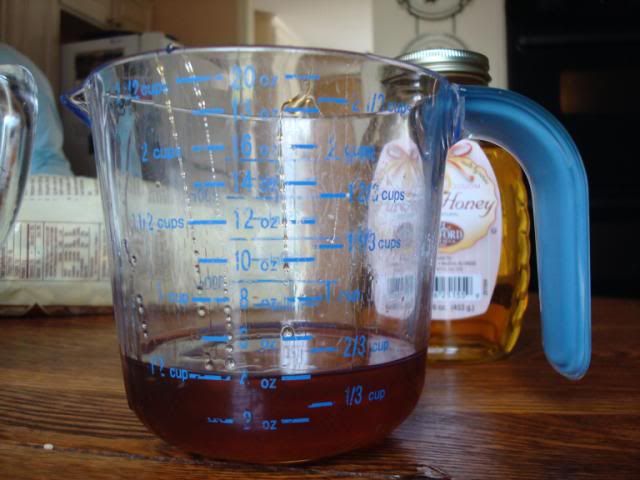 Pour everything into a big bowl or tupperware container.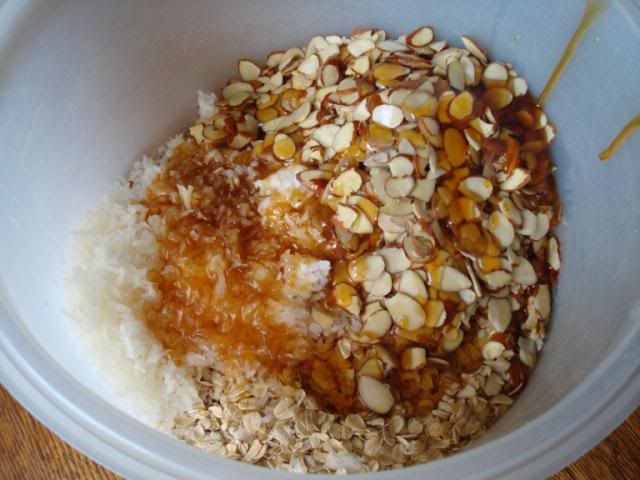 Mix well.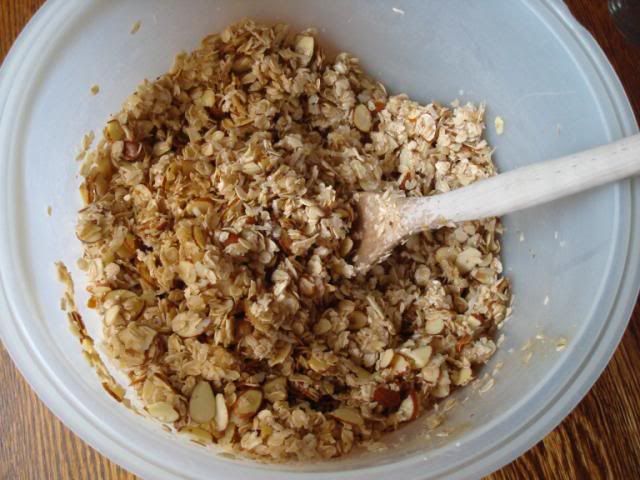 Pour into a baking pan.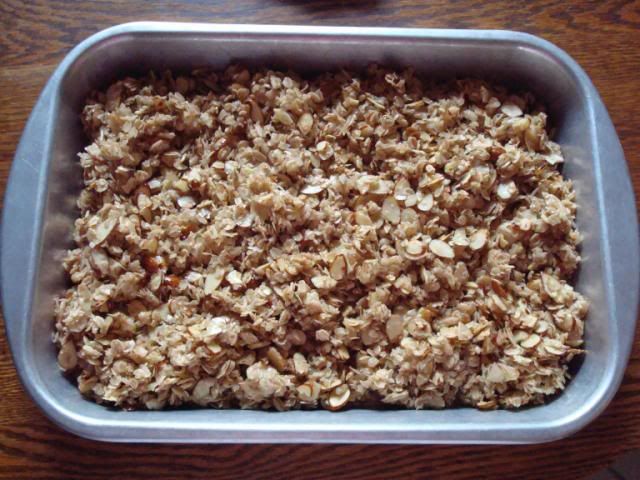 Cut up any dried fruits you like to eat. We used apricots, cheries, cranberries, and pineapple.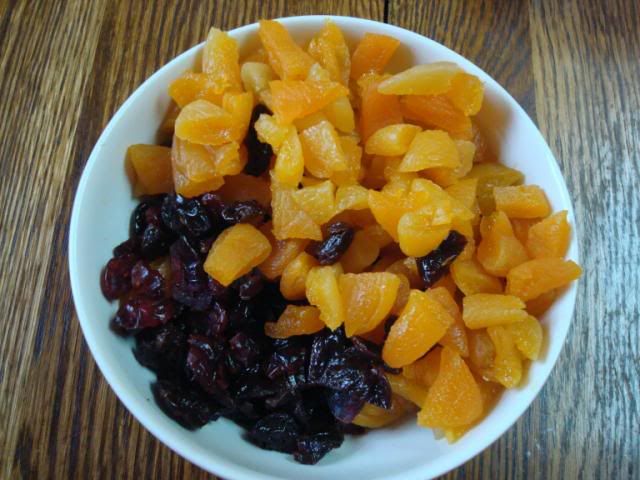 Put in the pan with the granola and toss well.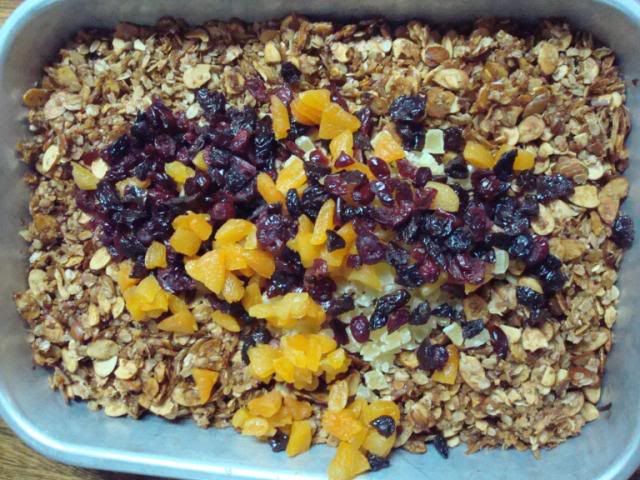 Place in a 350˚ oven and bake for about 45 minutes, stirring occasionally so that all of the granola will brown.
Ta Da!! And it's so good with yogurt in the morning or to munch on for a snack. I like to eat it like cereal with milk... it's very healthy and filling!
After making the granola, Grandaddy took us to the farm to feed the cows... something we grandkids have done since we were old enough to ride in the back of the truck by ourselves! The only thing wrong with this picture is that I am the only one riding in the back- no sisters and no cousins.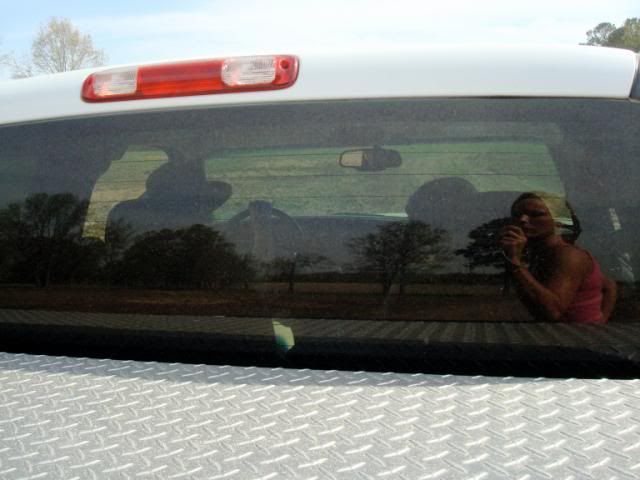 It was still refreshing to breathe
cow maneur
fresh air and just ride around one of my favorite places.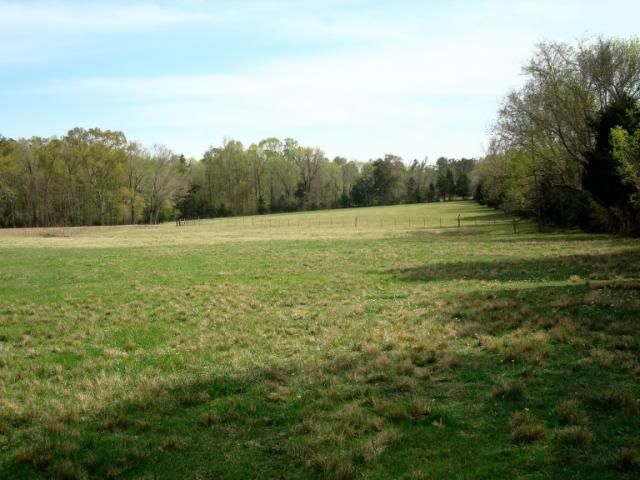 There were tons of little calves running around but this one was my favorite. He never left his momma's side... I think he was younger than all the others and therefore smaller and cuter :)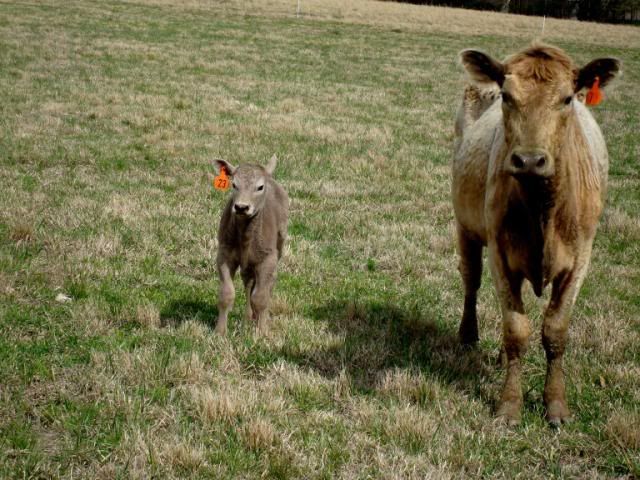 My grandaddy got this donkey to protect the cows from anything that could try to hurt them and he was so funny! He was just hanging out with the cows! He was a shy little fellow though...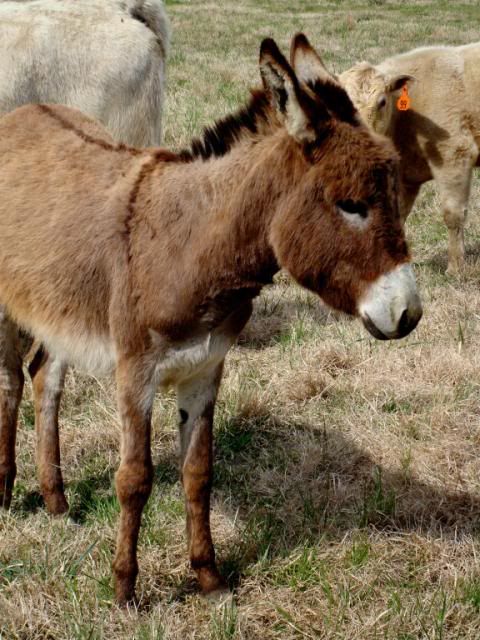 Can you spot the donkey?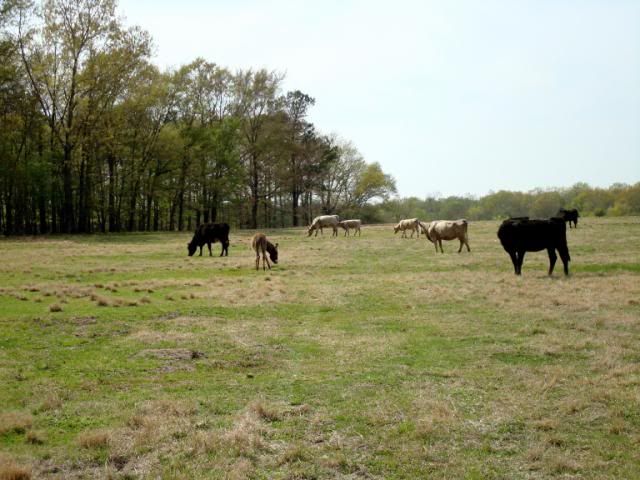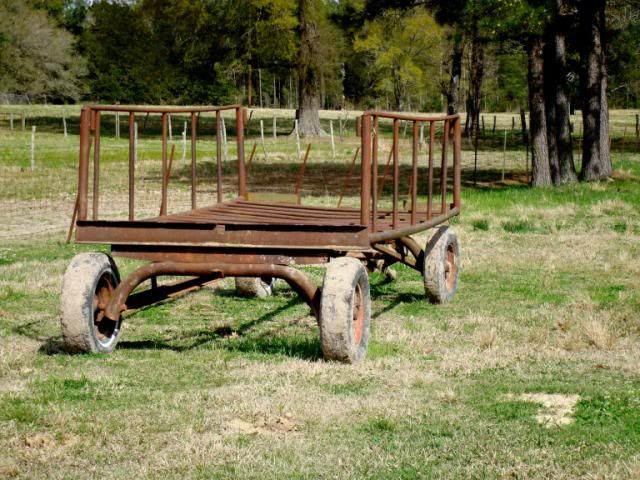 When we were little, Dad would take us (me and my sisters) walking through these woods looking for cow skulls and bones... weird thing to do you say? Well not to us, and definitely not to my orthopedic surgeon AND veterinarian of a father. He would teach us about the anatomy of the cows and we were FASCINATED. So much so, that we would take cow bones with us to show and tell at school. I wonder what the teacher thought when she saw a cow skull on the observing table!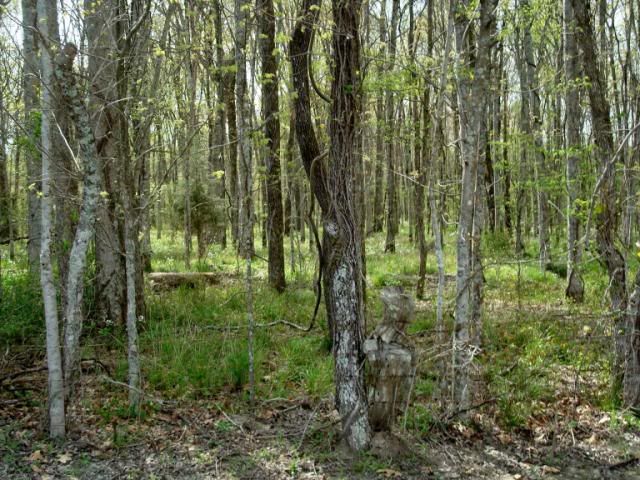 I cannot count how many times Dad took Julie and Jessica and I fishing in this pond when we were little. Dad actually caught a 4 pounder in there about a week ago!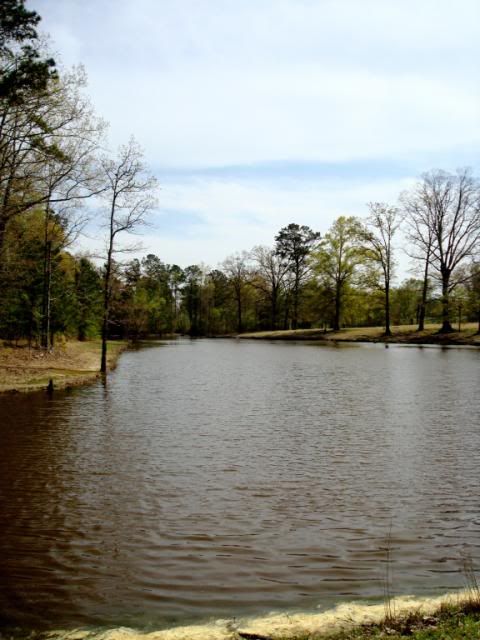 The farm is a very big place and I didn't get to photograph everything but you get the picture :)
When we got back, Grandmomma and I cooked up a French feast. Let me backup real quick- my Grandmomma is one of the BEST cooks I know- and I may be a little bias but if you tasted her food I am positive you would agree with me. She has been hearing about all the French food I have been cooking so I wanted her to taste it for herself. Grandaddy grilled steaks, and we made sauteed mushrooms, haricot verts a la provencale, bruschetta (which is italian), and whole artichokes with hollandaise. It was a FEAST!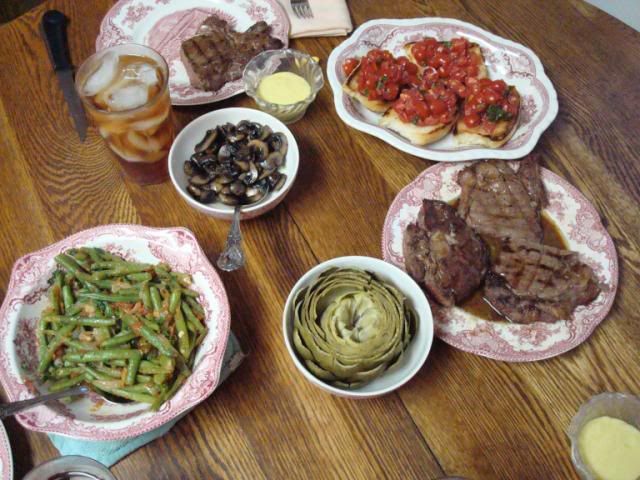 Because this post is SOOO LOOONNGG I will show you my new favorite way to cook green beans in another post. I think this might be turning into a food blog... Believe me this wasn't my intention when I started but because we are not busy with baseball right now, I feel like experimenting with food is all I do! I enjoy it and I hope you do too.
If you're still reading thanks for hangin with me... Goodbye for now :)