This past week, Aaron and I took a little trip over to Mississippi to spend time with family. We left filled to the brim! We packed so much into one week that I am writing two posts about it...
Aaron's mom, Mrs. Vickie, has four sisters and they were all in town for the week. It was so much fun visiting with all of them. They are all very close and listening to them laugh and cut up reminded me of me and my sisters... I have a feeling nothing will change as we get older!
We had so much fun catching up, laughing, shopping, and eating... We ate lunch at this cute little place one day.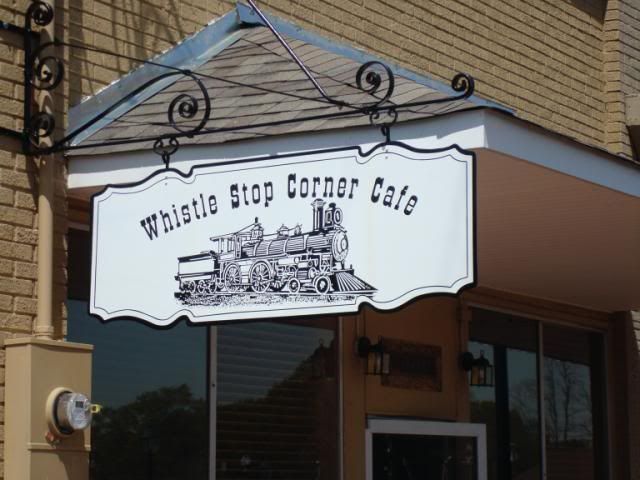 One of the perks of not being at Spring Training this month is that Aaron gets to turkey hunt. He NEVER gets to because of baseball- high school, college, and the pros. So he took full advantage of this opportunity and got him a turkey! It had a 10 inch beard and 1 inch spurs... the same size as the turkey I killed a few years ago :)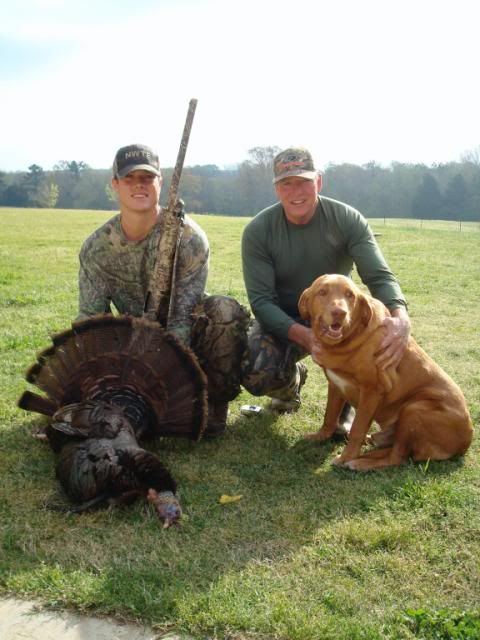 Aaron's parents live outside the city limits of Crystal Springs and it is beautiful out there... so is this little Jane Magnolia.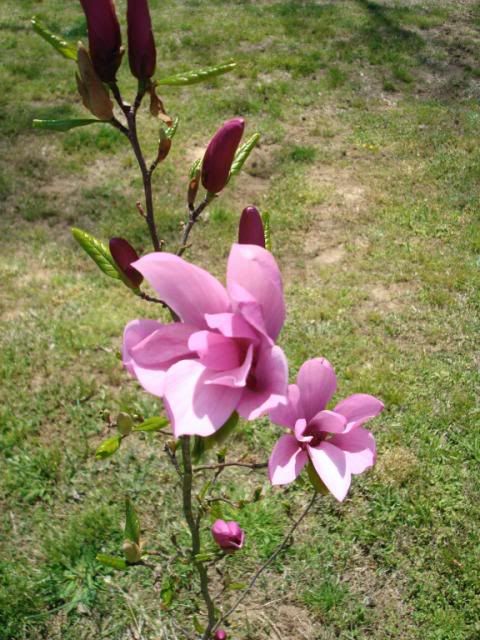 Aunt Sue, one of Mrs. Vickie's older sisters brought her precious little grandbaby for us to play with for a couple of days...
talk about giving me baby fever!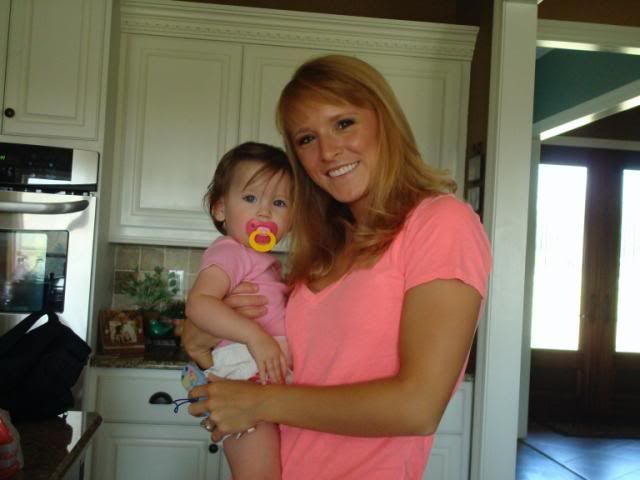 She is a cutie pa tootie!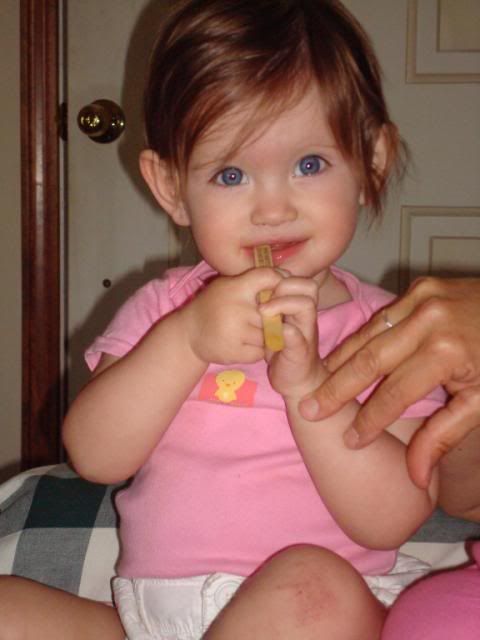 We went out to Pop and Papaw's and enjoyed being out in the country... Aaron and I grew up coming out here and riding four wheelers, shootin birds, fishing in the ponds, and feeding the horses and cows. Me and my little buddy rode around on the golf cart and took these pictures.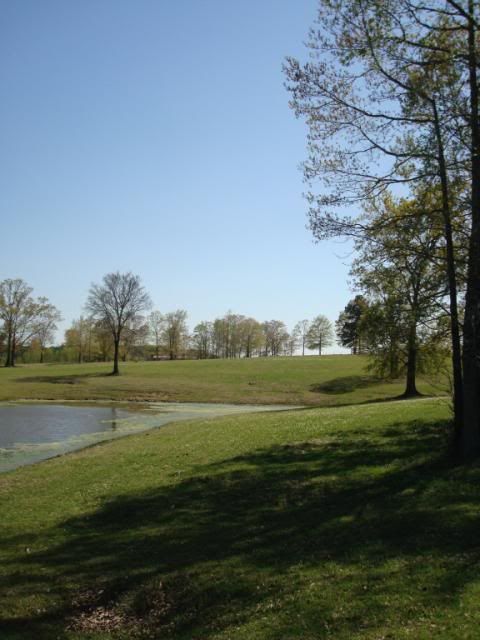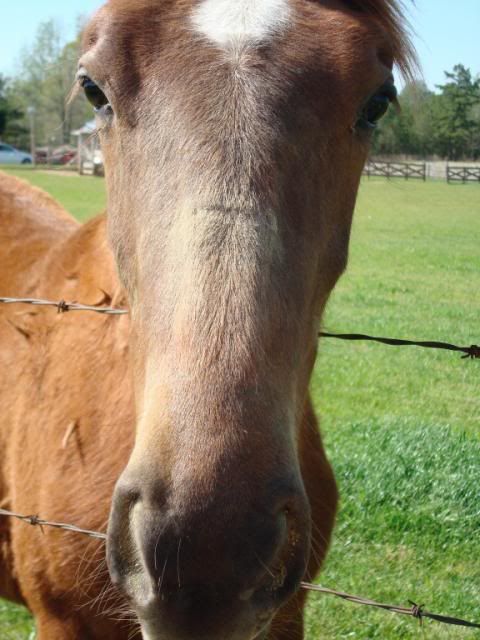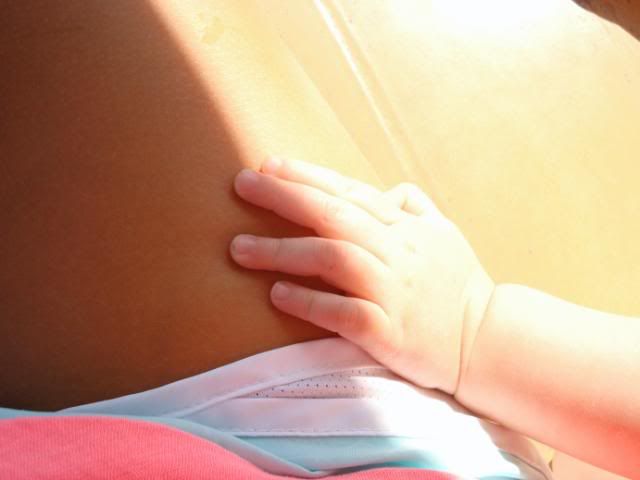 This is how she holds everything she eats. I had to snap a blurry picture :)
One night, Aaron decided that I should cook up a big French meal for all the aunts and cousins so WITHOUT my trusty cookbook I made Chicken Fricassee from memory. It was quite a task but because I had made this dish a week before, for another crowd of people, I could remember almost everything... I think. It tasted good so I guess that's all that matters. Many of you have requested this recipe so here it is!!
WARNING: There may be tears shed in the making of this dish.
Keep in mind that this is a Julia Child's recipe with a few minor "Jillia" adjustments :) If you make this, allow yourself about 2 hours for prep work and cooking. There are quite a few steps involved. Ok here we go:
Chop 1 med. onion and 2 celery stalks. I decided that throwing in a whole bag of baby carrots is better that chopping up 2 large carrots.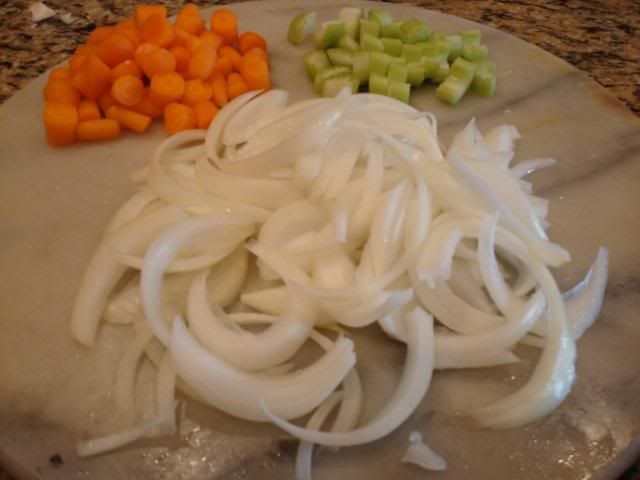 Blot the chicken (I used thighs on this go round but you can use whatever cut of meat you like best) with paper towels to help the browning process and season well with salt and pepper.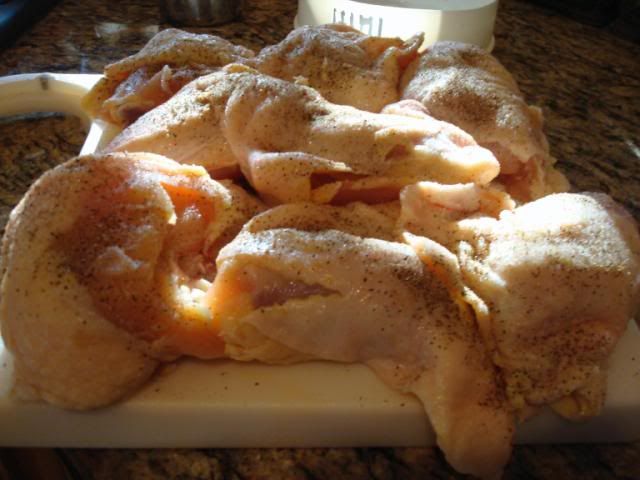 Saute the vegetables in 2 Tbs butter until translucent.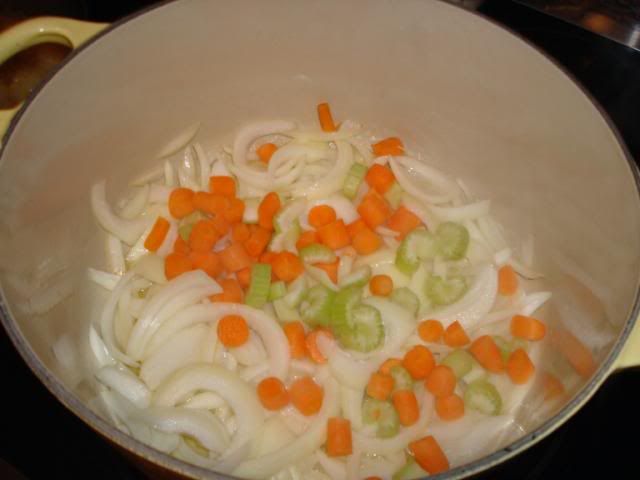 Meanwhile, peel 16-20 pearl onions. If you're like me, you might want to grab a pair of sunglasses for this one. (Hence the warning above).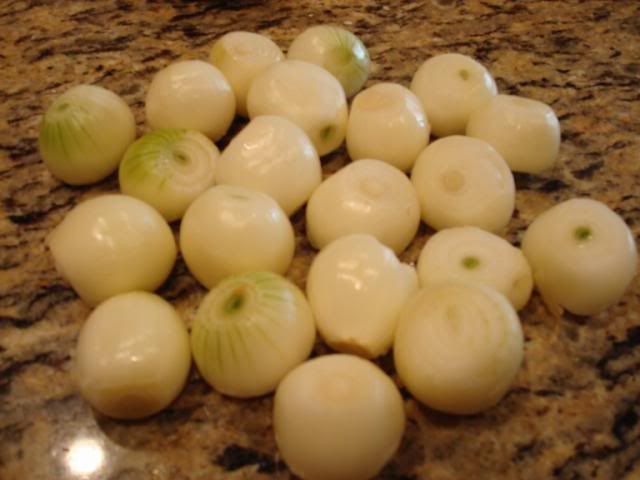 And yes, this recipe is kind of messy.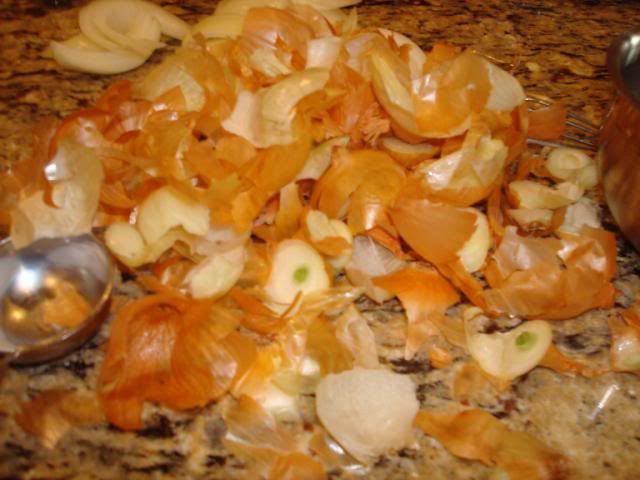 And cook the onions in either chicken stock or white wine with a bay leaf, a few sprigs of thyme, and a few sprigs of parsley. Cover and simmer for about 45 min. until the onions become sweet and caramelized. Keep adding a little bit of liquid at a time if it's drying up on you. (I am not much of an onion person, but I could seriously eat this whole pan. They become so sweet and delicious!)
While the onions are doing their thing, take out the translucent veggies and transfer them to a bowl or plate for now. Add your chicken to the pot and brown each side for a few minutes at a time. Cover the pot and let them cook for about 10 more minutes turning once or twice.
Add 3 Tbsp. of flour and toss the chicken to coat each piece.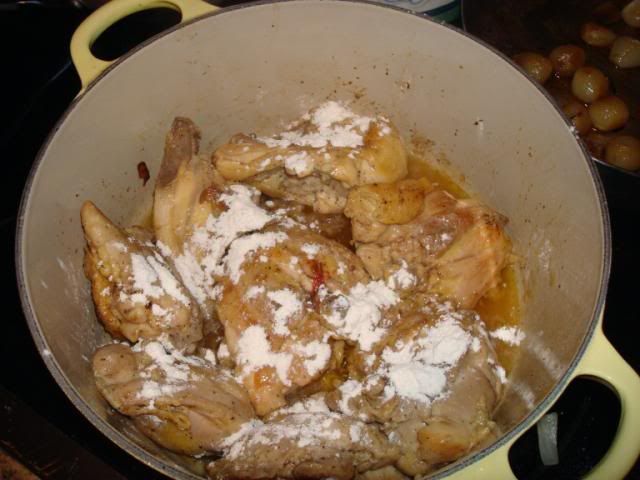 There are so many steps that I forget to take pictures of every little thing so after you toss the chicken with flour, pour in a cup of chicken stock and a cup of good white wine. Also stir in a few sprigs of parsley, thyme, and one bay leaf. Cover the pot and let the chicken simmer with the vegetables until the chicken is done. (This should take 20-30 min. depending on the cut of meat).
While the chicken and the onions are simmering, cook the mushrooms. I buy the baby bella mushrooms that are already chopped. These are SO easy- pour about 1/3 cup of water with a squeeze of lemon juice and a couple sprigs of thyme into the pan and simmer the mushrooms until they are browned. This will take just a few minutes.
While the mushrooms, onions, and chicken are simmering mix 2 egg yolks with 1/2 cup of whipping cream.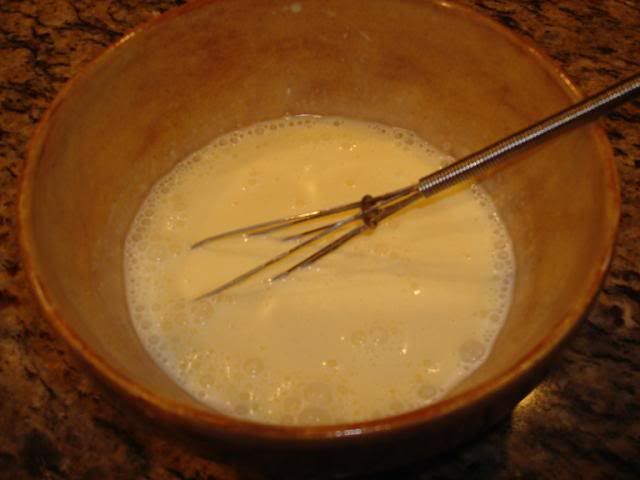 When the chicken is cooked through, take the chicken out of the pot and bring the stock and wine up to a boil. Scrape off most of the fat that accumulates at the top. In the bowl of whipping cream and egg yolks, beat in about 1 cup of the hot stock to acclimate the egg yolks to the heat. Then pour the cream mixture slowly into the pot of boiling stock and whisk continuously until the sauce thickens and coats a spoon...this will take a few minutes... you get a good arm workout. Well, at least I do :)
After about 45 minutes, the onions should be done and they will look like this and pretty much taste like a piece of caramel. Just kidding- but close to that!
When the sauce is done, put the chicken back in the pot along with the cooked mushrooms and onions and their juices.
Unfortunately, in the midst of the chaos, I did not get to snap a picture of the instant product but picture this: A piece of chicken bathed in a rich and luscious cream sauce with tender baby carrots, sweet pearl onions, and hearty mushrooms all around and on top. I have LOTS of people that would agree with me when I say- This dish is FINE!! It is definitely a crowd pleaser.
The sauce is so delicious that serving mashed potatoes with this dish is a must. I always like to have something green on my plate so I roasted some broccoli with lemon, parmesan, and pine nuts and it went with the chicken beautifully! If you have the time, cook this recipe for your family and friends. They will clean their plates and I know this from experience!
For dessert, I made a French Apple Tart and it was just as pretty as it was good! But I'm gonna have to give the blogging a break for the day so I will show it to y'all later.
This part of my week was so much fun and I will be showing you "Part II" another day.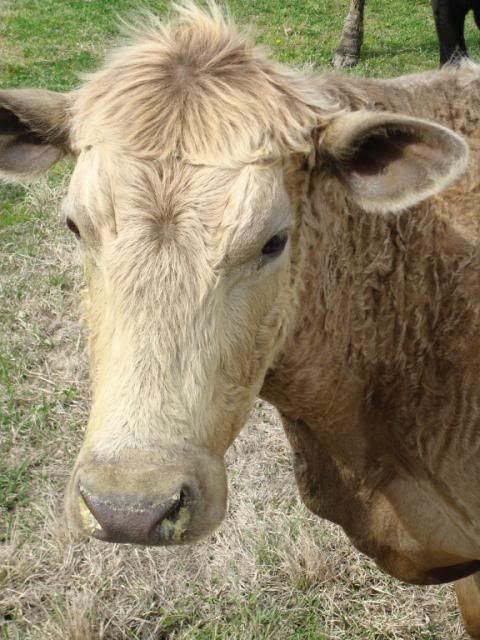 Bye Y'all
.