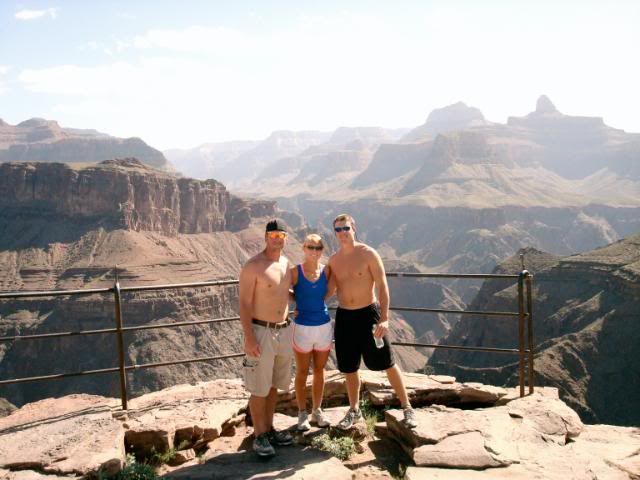 Saturday after practice, the boys and I loaded up the car and headed for one of the Seven Wonders of the World...
The Grand Canyon.
It was two days we will never forget for many, many reasons. I would say for the day and a half we were there, we made the most you could make of it.
It was a scenic drive up there... I can't tell you how many times we asked each other, "
Are we really in Arizona??
"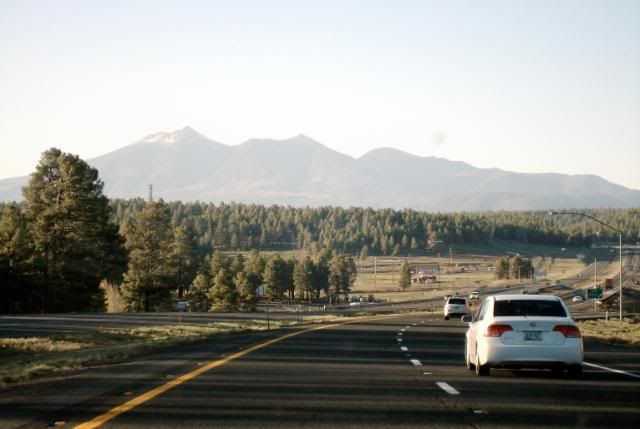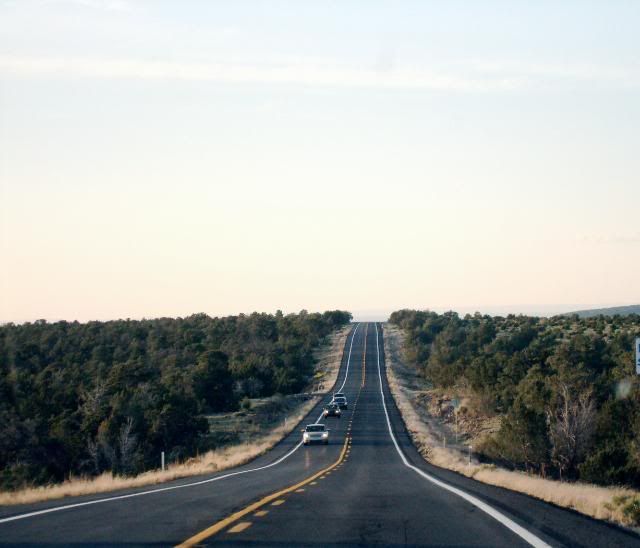 Our first views of the Grand Canyon were of the sun setting behind it...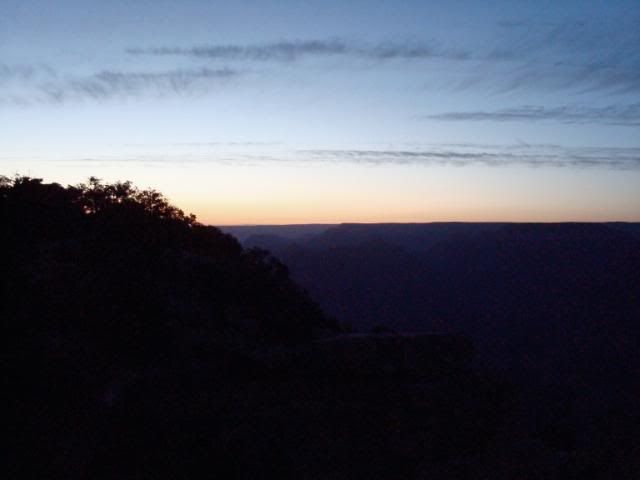 It was even more majestic and breathtaking than I imagined it would be.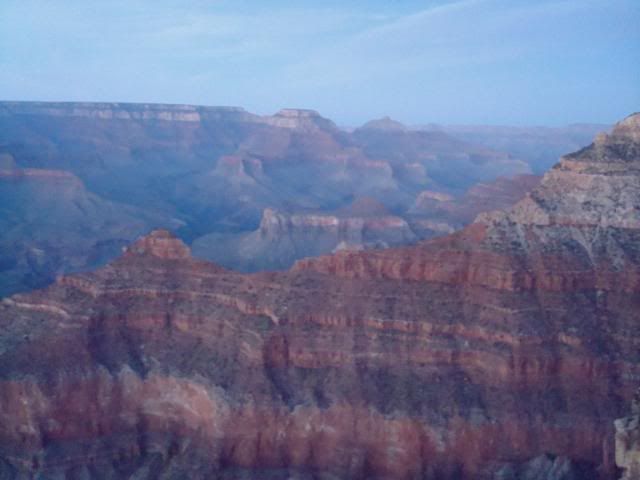 Even though the lighting was dim, we just had to take a picture.
Maybe if I had a nice camera the pictures would have turned out better!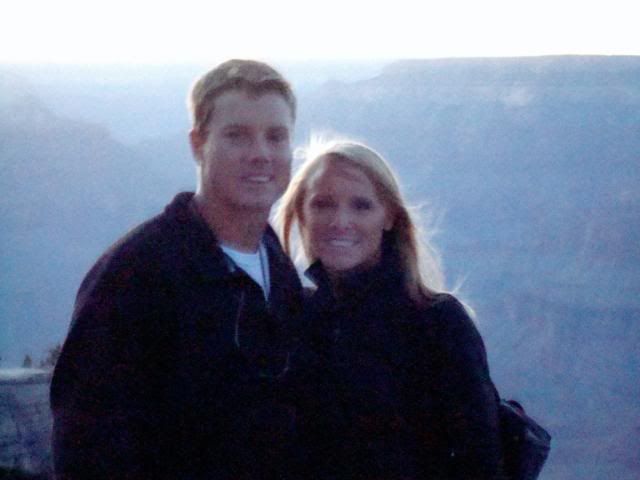 We decided that if we only had the next day to experience this place we were going to get up with the sun and spend as much time as possible exploring. And here was our first view of the canyon Sunday morning...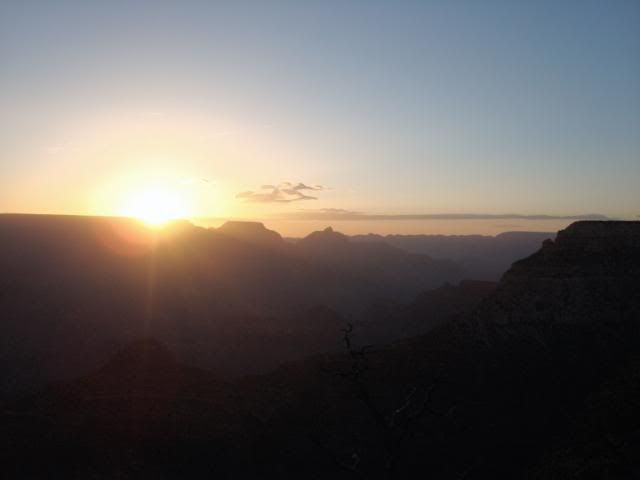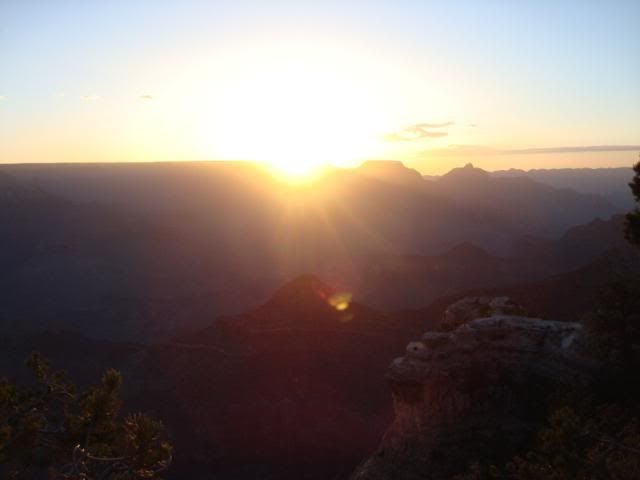 Oh and by the way, it was frreeezziing!!! We just assumed it would be the same as Tucson weather and obviously, we assumed wrong. Little did we know, we would be appreciating those cool temps later.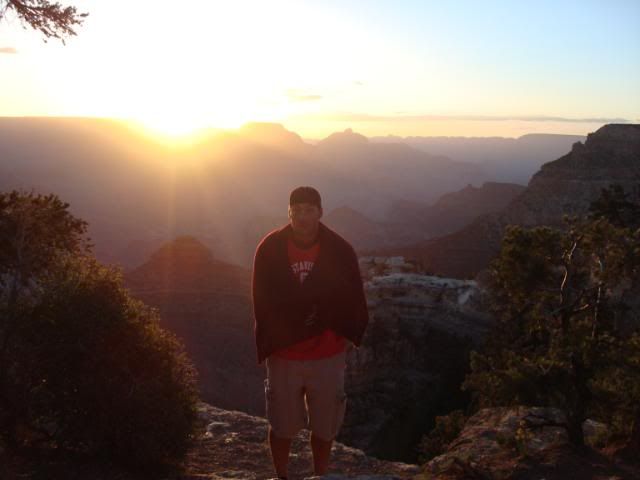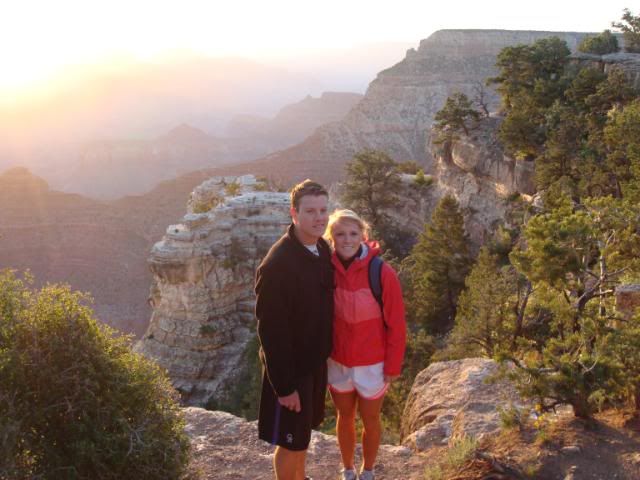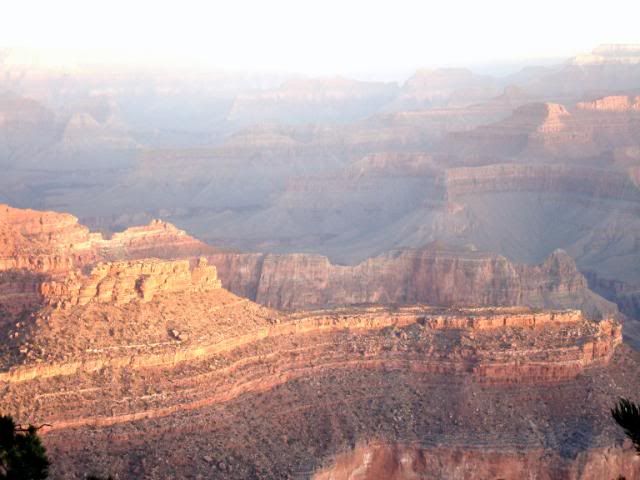 So in order to really experience the canyon, we decided that hiking would be the best way. Call us over-ambitious but we enthusiastically embarked on a 12 mile hike from the top of the cliff to a drop-off at the bottom of the canyon and back up. It was extremely challenging but the views
almost
made you forget about the pain.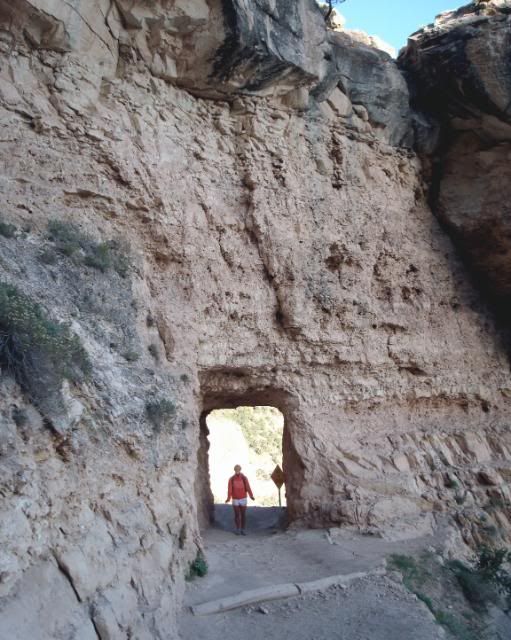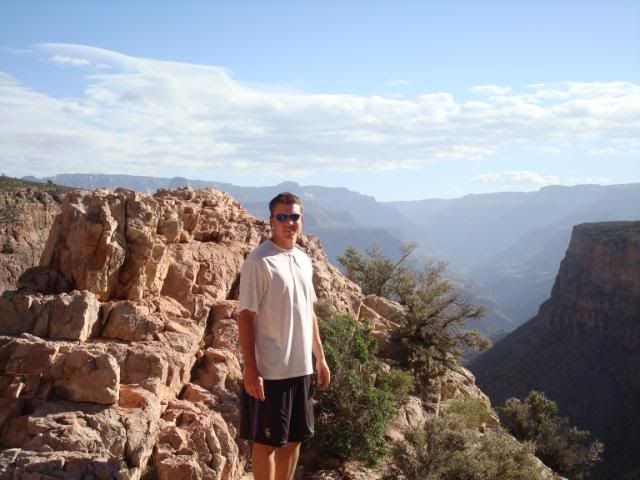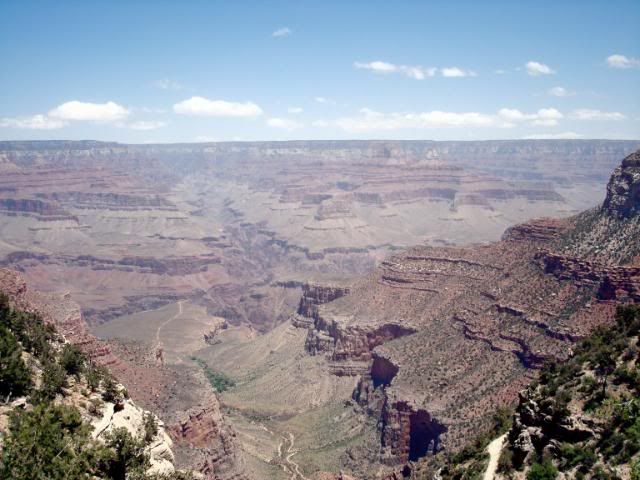 Along the trail, there were lots of beautiful flowers... and of course, the
wildflower nerd
came out in me.
I was most excited about seeing all the Indian Paintbrush- this is the state flower of Wyoming and are everywhere you look in Jackson Hole. Once again, I am reminded that I need a better camera.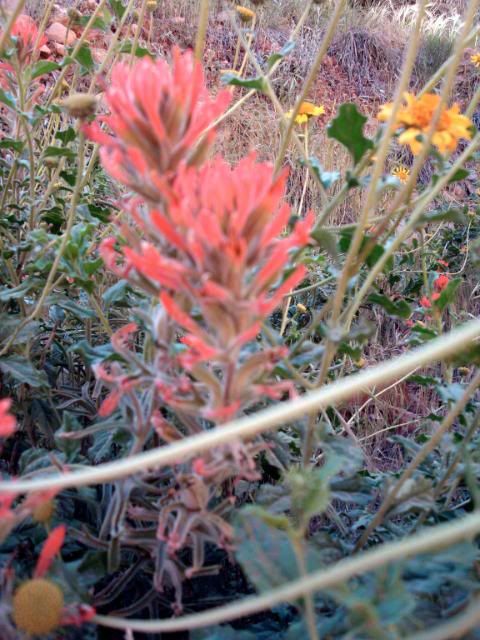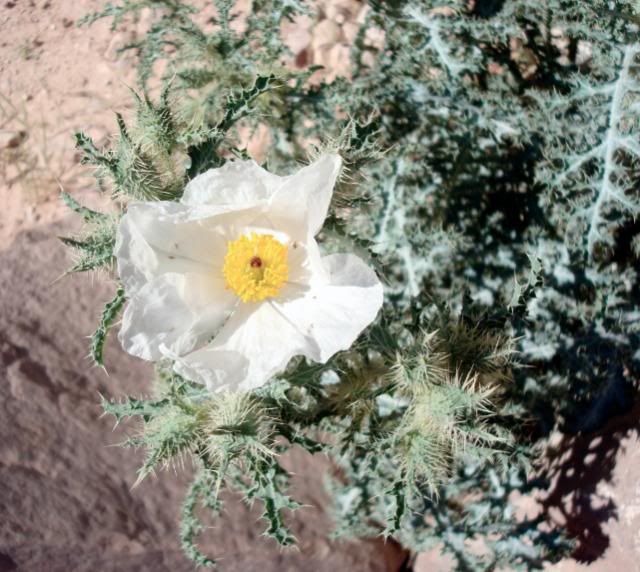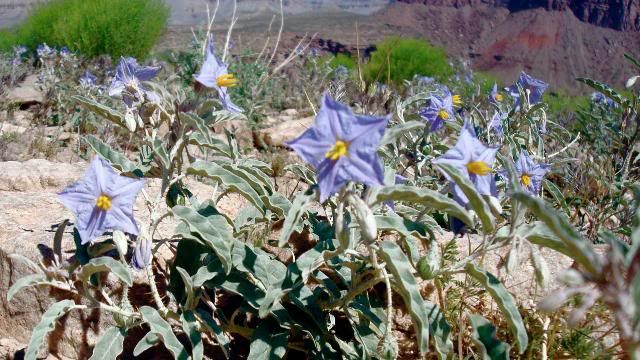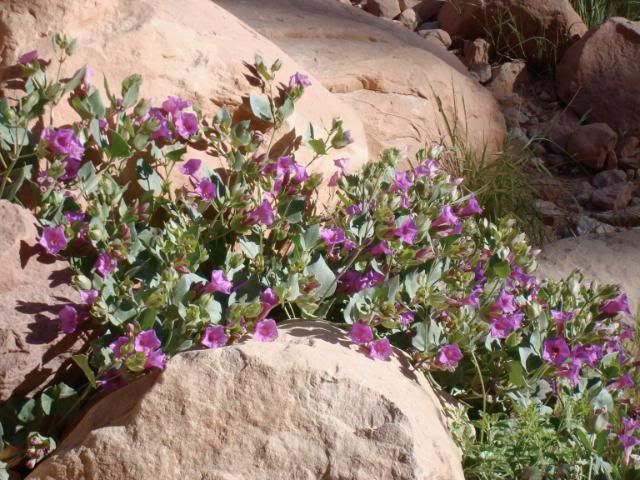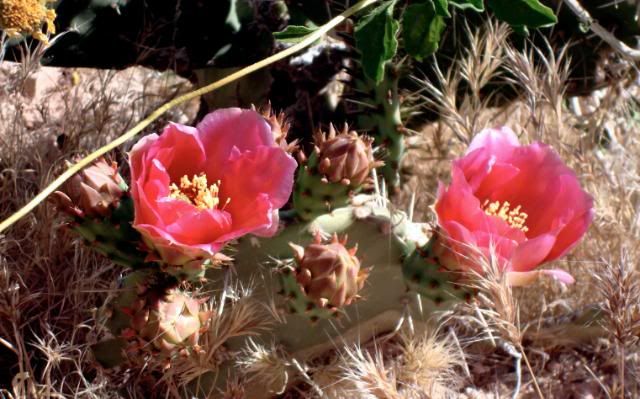 And I am almost positive this pretty little bird is called a western tanager. Right Mom and Dad? (These are in Jackson Hole too)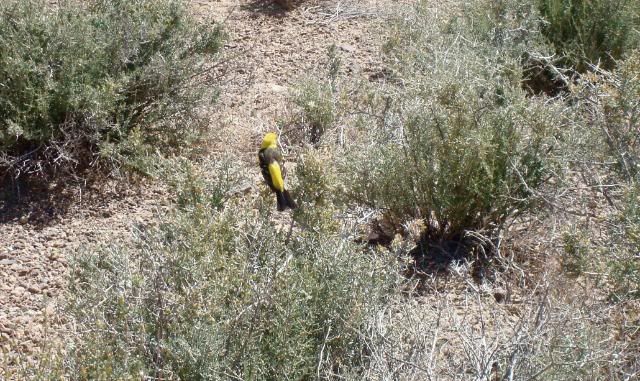 Hiking down into the canyon was interesting because it's like we went through all its different "layers" or should I say points of elevation. The temperature kept changing, the rocks changed colors, the force of the wind kept changing, (did I mention there was a dust storm in the canyon while we were hiking?) Now I literally know what it's like to eat dirt. But that was all part of the ADVENTURE and it was so much fun!
There were even trees in some parts of the trail... I think this is the biggest tree I have ever seen in Arizona and Aaron just had to get a picture by it.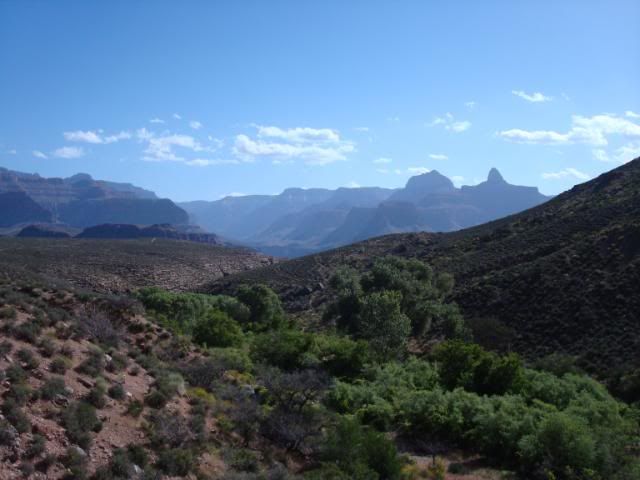 Here are some more spectacular views...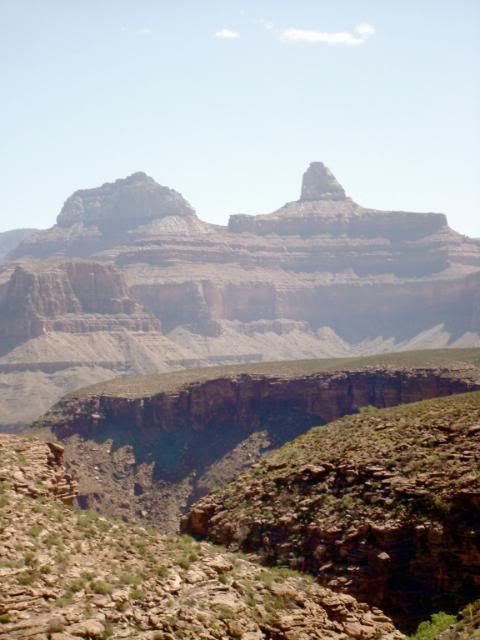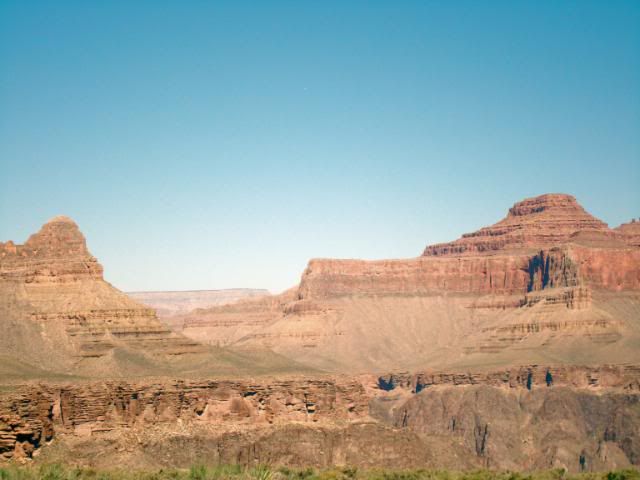 And when we made it to our destination we stood amazed at basically everything, took lots and lots of pictures, drank about a gallon of water, and stuffed our faces with food. We knew we needed as much energy as possible to climb back up!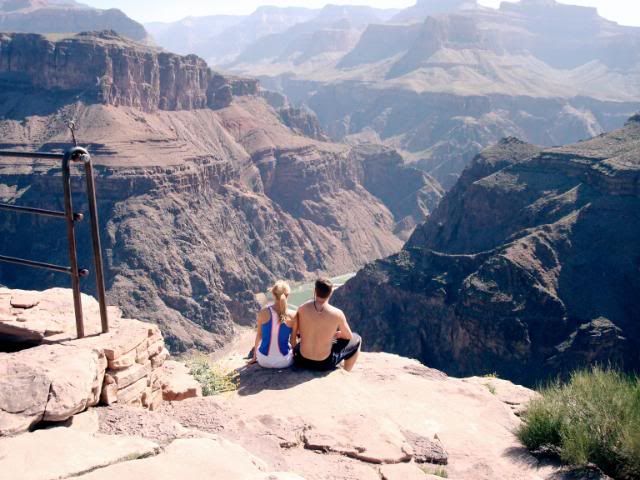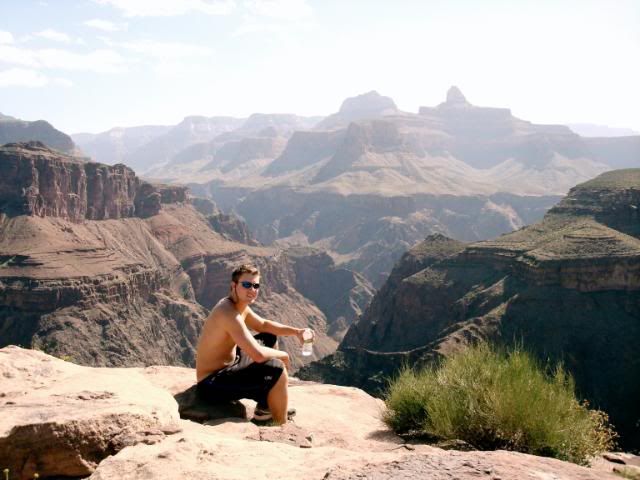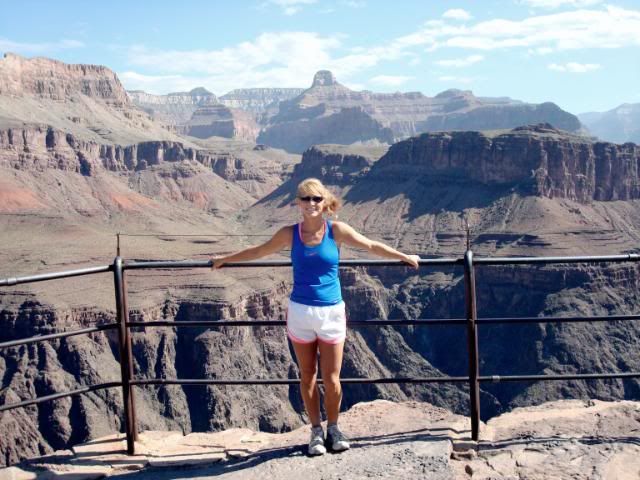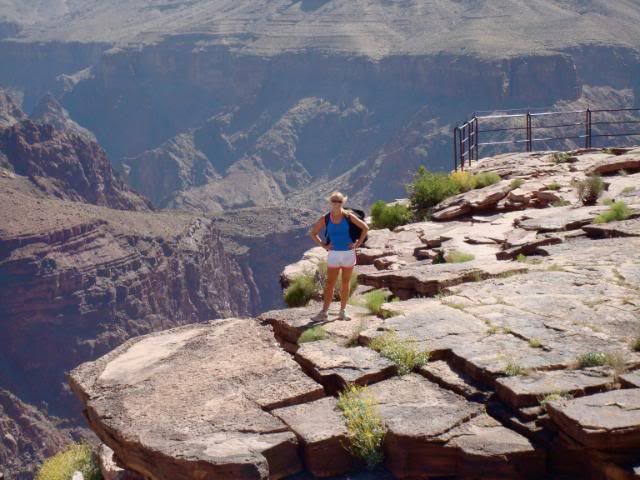 I couldn't tell if this was an osprey or a buzzard but I'm just going to tell myself it was a beautiful osprey.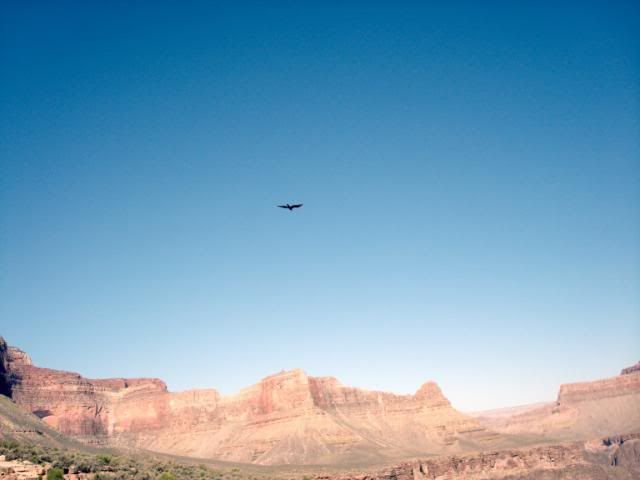 While we were enjoying our meal, we had a little visitor. You know how I said earlier that we stuffed our faces with food? Well he literally did... his cheeks kept growing and growing the more crumbs he ate!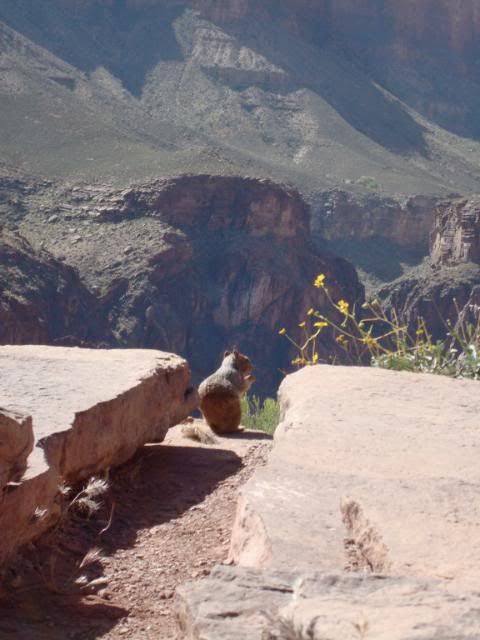 Just keep reading I have even better squirrel stories coming up.
So when we were somewhat refreshed, we headed back up the
cliff
canyon.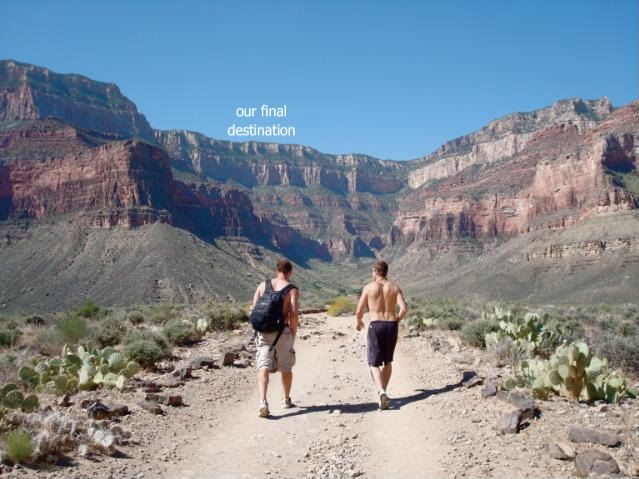 As we hiked back up, I kept looking down and feeling so proud that we had come this far.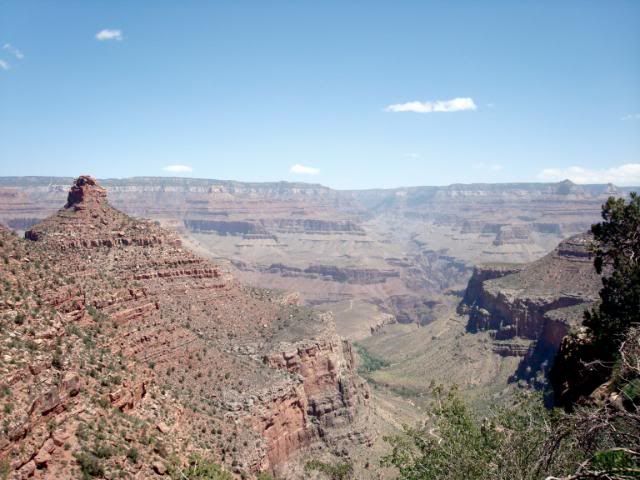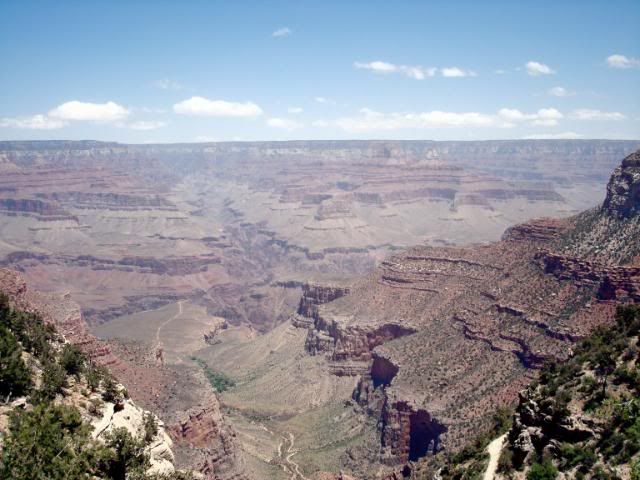 Everything was just so majestic and well, ENORMOUS that I felt so small... like an
itty bitty
blue
dot on the side of a cliff.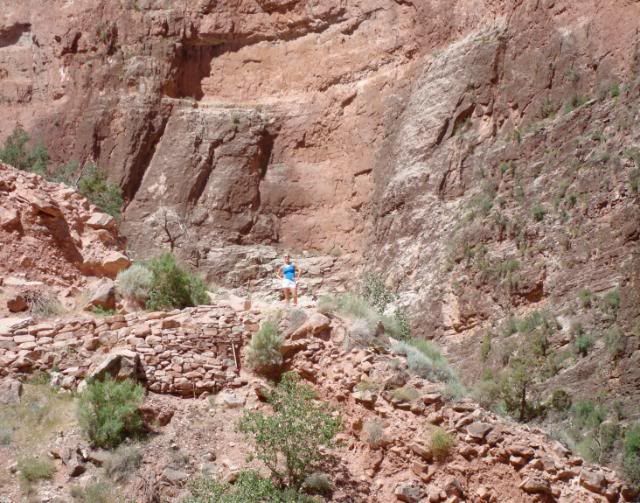 Along the way up, we took a few more water breaks than we did on the way down. Little
or should I say fat
"Chester" was really glad we stopped in his neck of the woods.
He looked so innocent and beggingly at the camera woman just praying that I would give him my crumbs... and then decided that Brad and Aaron's food looked more appetizing than a camera.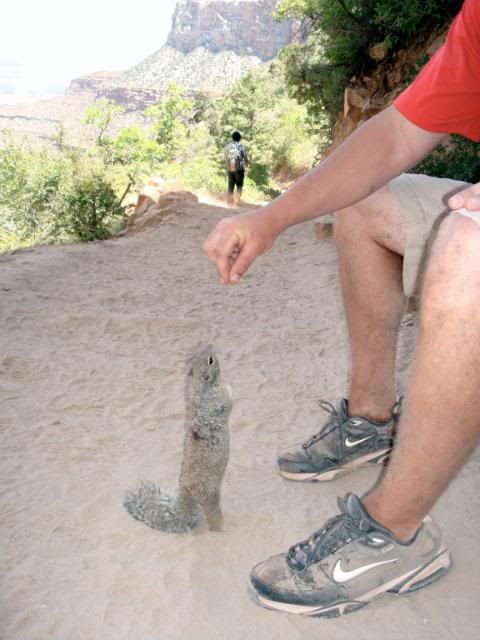 He got really comfortable with Aaron... notice the footprints on his shorts.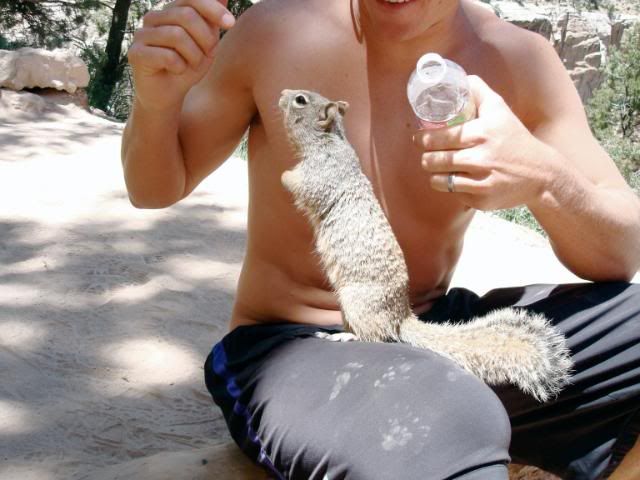 And as I was feeding the squirrel my leftovers, some man gets on to me and says, "
You know you're not supposed to feed them, it's against the law
." And I said, "Um, I think he's perfectly fine, OBVIOUSLY he's used to it.
It's not like he's a freakin mountain lion! And who do you think you are? SQUIRREL PATROL?!?
No I didn't say ALL of that but you better believe I was thinking it!
So when we finished our 12 mile hike, we looked down and wondered
how on God's green earth did we do that
. It was a stiff and painful feeling of accomplishment that we will never forget and I said, "
Well y'all, I think we can officially say we have SEEN the Grand Canyon
." And Brad replied, "
No, I think we can say the Grand Canyon has officially seen US
."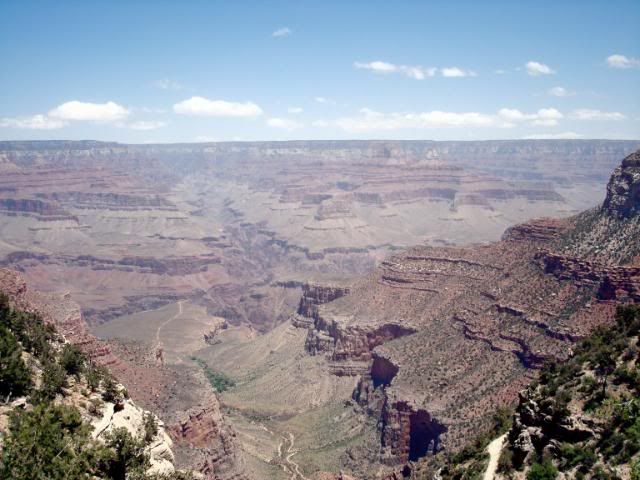 Our faces say it all...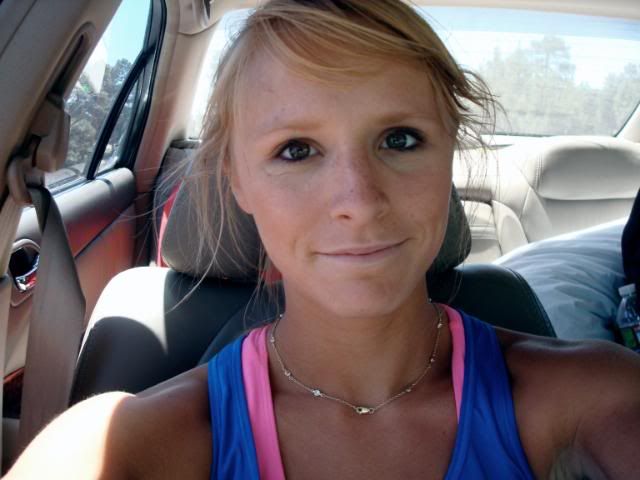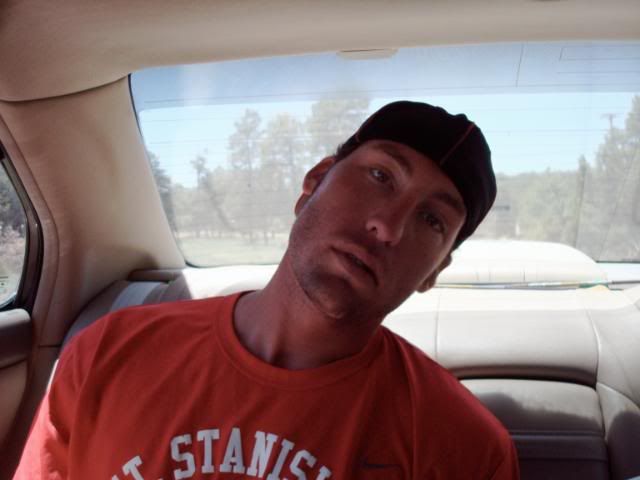 Too bad you can't see the film of dirt on our faces and bodies from the dust storm we endured during the hike. On the way home, the boys were tired and needed a nap so I took one for the team and drove... through a continuous dust storm the entire way. You southerners may not know what one is like and trust me, you don't want to. My palms were sweating profusely as I gripped the steering wheel with both hands (driving through mountain ranges) trying not to let it take us off the road!
This picture is how we all felt on the last couple of hours of the drive. As you can tell, Aaron had a great nap and felt just fine... Brad and I, not so much.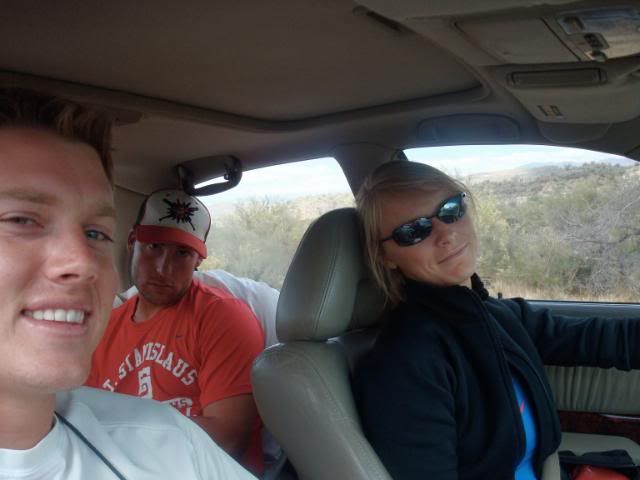 Aaron and I decided we will definitely be back again and if you're reading this and have never been you are
missing out
.
These pictures do not do it justice
. You have to see it with your own eyes... and please don't just go and look down... really do your best to get the whole experience of it. I promise it will be worth it.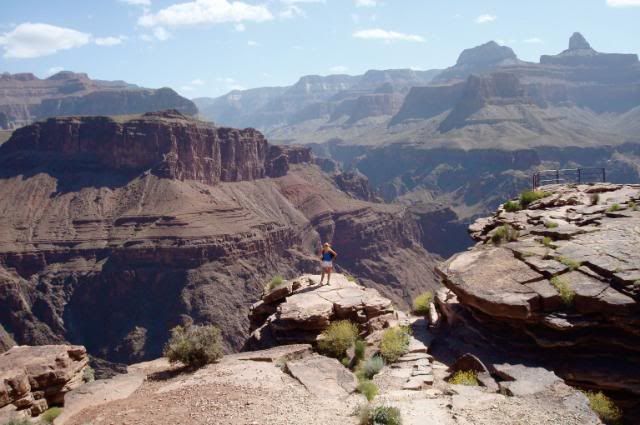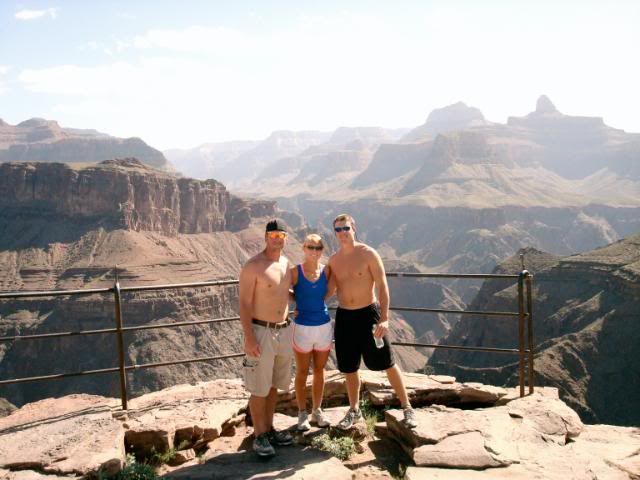 To me, this day was one of the most fun days of my life. The soreness I am feeling today is definitely not fun but it was for a good cause :)
I hope you enjoyed reading the longest blog post in history!