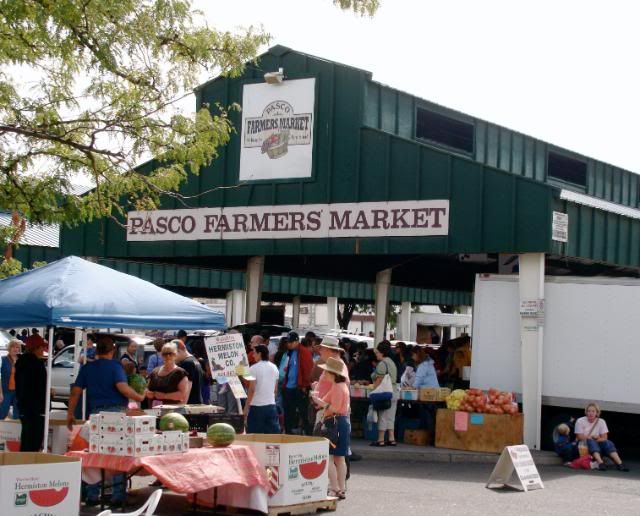 One of my favorite things to do on Saturday mornings is head over to the farmers market where all the locals showcase their abundance of fresh produce.

When we're on the road, and trying not to spend a fortune eating out, our most "nutritious" meals include Denny's breakfast, a large greasy Papa Johns pizza, and McDonalds, for the most part. (You know, the only places open when the game is over at 11:00 at night). So needless to say, when we're at home, I try to cook as healthy and fresh as possible in hopes of "counteracting" the
consequence
s
of our food choices on the road.
Here are some of the delicious dishes I have concocted that showcase all the different produce I find at the farmers market. (And I must confess, I don't hardly measure anything so when it comes to these recipe measurements I'll say what my great Grandmomma Merle used to say, "Well I don't know, just use a
right smart
amount
!" A woman after my own heart! :)
Mmmm... my absolute favorite vegetable. (Or is it a fruit?) Who cares, they're delicious. My Grandmomma has memories of me, when I was a baby, waddling through her garden (when I could sneak away from the grown ups) and picking the ripe tomatoes off the vine, and eating them like an apple. Well, not much has changed!
Here is one of my favorite ways to eat fresh summer tomatoes... besides slicing them and adding a dash of salt and pepper (that's the best way :)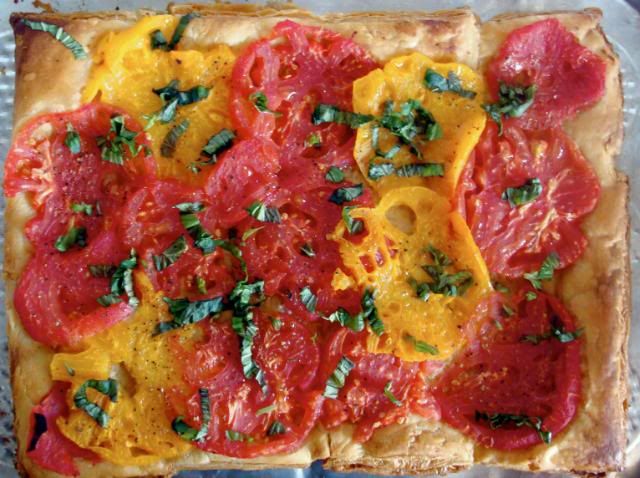 Peel and slice
tomatoe
s
. Place on a paper towel and
salt
them. This will bring some of the moisture out of the tomato, that way the tart won't be soggy. Bake
puff pastry
on 400 degrees until golden brown. Place the tomato slices on the tart and drizzle with a little
olive oil
and freshly ground cracked
pepper
. Bake in the oven on 400 degrees for until the tomatoes are completely dehydrated and the crust is extra crispy. Throw some julienned
fresh basil
on the top and the heat of the cooked tomatoes will wilt the basil and cause the oils to be released and the finished product will taste fabulous! (And if you want, you can always slice or shred some mozarella or parmesan or both, on the tart before you pop it in the oven, then it would be pizza!)
As y'all know, I'm working on a budget here with my grocery purchases, and well, when Walmart (sorry, not a farmstand for this one) is selling corn in the husk for 25 cents an ear, how could I resist?
Here are some simple, crowd (guy) pleasing, fresh corn dishes.
Peel the husks off the
corn
and cut the kernels off the cob(s). Heat a couple tablespoons of
butter
in a pan. Throw in the corn and season with
salt and pepper
. Cook on medium-low heat for a few minutes. When the corn is cooked through, add a dash of
heavy cream
and a generous sprinkling of
parmesan cheese
. It's easy as that!
Corn Succotash
- this is Simple Sauteed Corn kicked up a notch!
Cut
corn
kernels off the cob. Chop
zucchini
and
ch
erry tomatoes

the same size as the corn kernels. Fry one piece of

bacon

, in the pan, until crispy. Remove bacon and throw in the corn, zucchini, and tomatoes and add a dash of

salt and pepper

. Saute on medium heat until vegetables are cooked through and then add a dash of

heavy cream

and a sprinkle of

parmesan cheese

. Enjoy!
One of Aaron's favorite Italian dishes is Eggplant Parmesan. So, when I came across these purple babies, I decided it would be a perfect opportunity to earn some brownie points!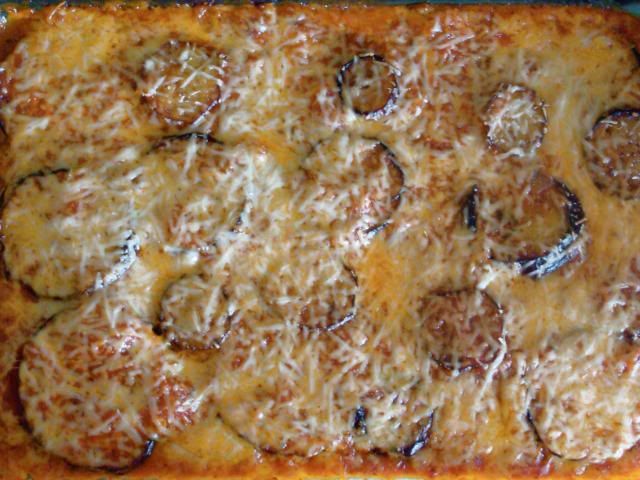 Heat up some
olive oil
(should cover the bottom of the pan) and slice the
eggplant
. Throw the eggplant slices in the oil and let them brown for a couple minutes on each side. When they have browned, let them drain on a couple paper towels. When all the eggplant is browned and drained, start layering your dish. Layer
marinara sauce
, eggplant, and
parmesan cheese
in that order, for as large a dish as you're serving in. Bake on 400 degrees until the sauce is bubbly and the cheese is melted.
My favorite kind of desserts are baked with fruit... blackberry cobbler, apple crisp, peach pie... and these rasberry turnovers were scrumptious. I've always loved apple turnovers, and I had some leftover puff pastry from the tomato tart so I decided to use my rasberries for this light and delicious dessert.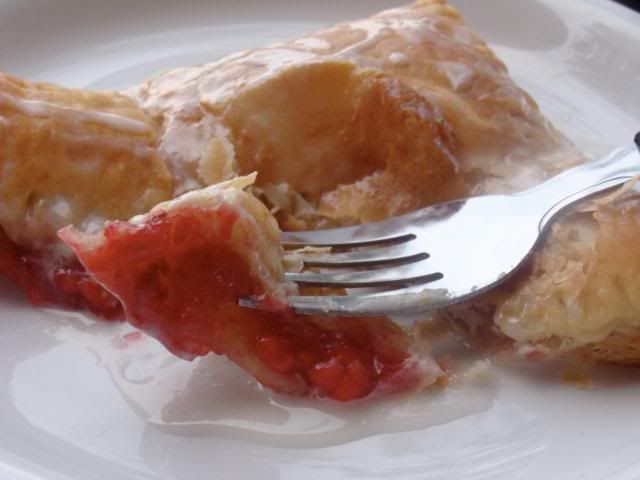 Take a small handful of
fresh rasberries
(or any fruit just chop it up small) and smash them gently in a bowl. Add the
zest
of half a lemon
and a teaspoon of
sugar
. Next, throw in a heaping teaspoon of
cornstarch
and mix everything together. Cut the cold
puff pastry
into squares and then into triangles and spoon the rasberry mixture on one triangle and cover it with the other triangle. Mash the seams together with your fingers and then press the seams with a fork to make it look pretty. Brush a little
eggwash
on the tops and place turnovers in a 400 degree oven and bake until golden brown.
Meanwhile, make the glaze. Mix together powdered sugar with milk until you get the right consistency. Add a dash of vanilla and when the turnovers are done and slightly cooled, drizzle on top. Yum!
And just to keep it real...
Not
everything
I've been making, or should I say baking, has been healthy. This delicious dish is the
Pioneer Woman's Cinnamon Baked French Toast
. It was divine... but I've gotta say, a good 'ole piece
or two, or three
of cinnamon toast does the trick every time!
Not to mention, all of my healthy vegetables were accompanied by country fried steak and rice and gravy last night so there you have it... It's all about balance! (or that's just my excuse)
I encourage you to try these recipes... they really are so simple to make and taste sooo good!